VietNamNet Bridge – Local authorities of Nghe An Province's Quy Hop District are investigating the breach in a wall of a tin tailing pond, resulting in the polluting of rivers and killing fish in the district, said Vi Thanh Tuong, vice chairman of the district's People's Committee on Sunday.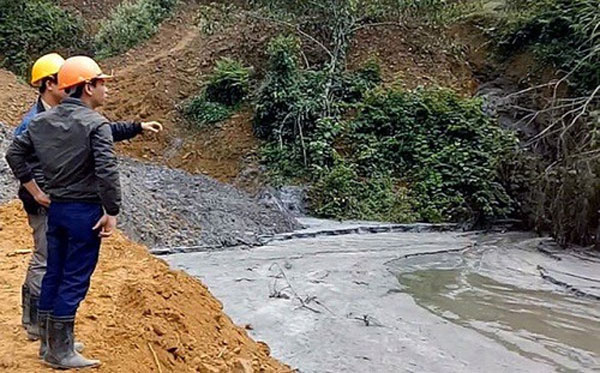 Local officials evaluate the consequence of the tailing pond incident that released a large amount of mud and leach residue into rivers and streams in the three communes of Quy Hop District, Nghe An Province. — Photo baomoi.com
A district's inspection team is collaborating with the province's police and environmental department to inspect and evaluate the consequences of the incident, he said.
The incident took place on March 9 when 12 metres of wall of a tailing pond of the Suoi Bac Tin Mining Enterprise broke, releasing hundreds of cubic metres of mud and leach residue into the Nam Huong River.
The toxic residue flowed into some fish farming ponds in Chau Thanh Commune and natural streams in neighbouring communes, killing fish and flooding large areas of agricultural land.
The province's Department of Environment and Natural Resources took samples of the mud and wastewater released from the enterprise, as well as dead fish, for the investigation. The Quy Hop People's Committee had asked the enterprise to stop its tin mining activities.
The Suoi Bac Tin Mining Enterprise is owned by the Nghe Tinh Ferrous Metal Company, which has been in operation for years. Its tailing dam has the capacity to hold some 10,000cu.m.
VNS