All lakes in the inner city and 36 of the 140 polluted lakes on the outskirts have been cleaned, the Hanoi Water Drainage Company said on Wednesday.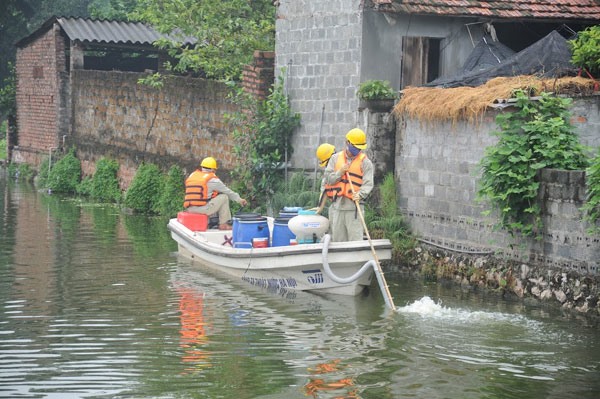 Lake cleaners pour Redoxy-3C to purify a lake in Hanoi. 
Of the 36 lakes, 14 are in Dong Anh District, six are in Thach That District and six are in Ba Vì District, said Phan Hoai Minh, deputy director of the company. 
The remaining ones are in Chuong My, Gia Lam, Son Tay, Thanh Oai, Ung Hoa and Me Linh districts.
Minh said that in 2016, following proposals submitted by district and town authorities, the company assessed the pollution level of 150 lakes on the outskirts of the capital city. 
Of these, 140 lakes were severely contaminated and needed urgent clean-ups to protect their bio-systems, safety levels and the surroundings.
The lakes have been cleaning using the Redoxy-3C technology from Germany. Experts and local authorities have accessed the cleaned-up lakes and said that they are no longer smelly and animals are no longer dying.
After treatment, the lakes have been handed over to local authorities for their management and maintenance.
"The lakes on the outskirts usually have a lot of water ferns, so we face difficulties in doing the treatment. I hope that local authorities will send cleaners to tidy up the rubbish to facilitate the lake treatment process," Minh said, adding that another 34 lakes in the suburban area are on the clean-up list, and that 12 of them would be fixed this month. 
VNS