VietNamNet Bridge - Protective forests are being cut down at a high rate, despite laws that oversee such violations.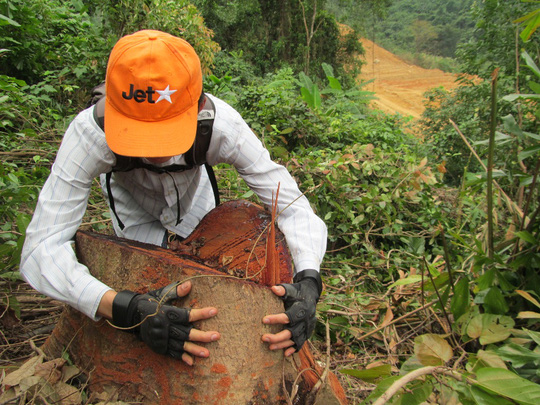 Many trees in the natural forests of the mountainous district of Da Krong in Quang Tri province have been chopped down. When reporters visited the site in late February, they could see felled trunks in disorder on the ground with sap still dripping.
Three forest rangers, present at the civil guard post, when asked why the forest was ruined, said they tried to persuade people to stop felling trees and reported the deforestation to relevant agencies, but the forest was still ravaged.
A local official said that illegal loggers were the local ethnic minority people. "When inspectors came, they could not find any loggers because loggers were warned first," he explained.
According to Tran Van Ty, director of the Huong Hoa – Dak Rong Protection Forest, the deforestation in Wards No 678D and 688 began in early November. 
"As the road to the Khe Nghi hydropower plant, which runs across the protection forest, has been opened, local people find it easier to exploit wood illegally," Ty said. 
Protective forests are being cut down at a high rate, despite laws that oversee such violations. 
He admitted that his team failed to prevent people from felling trees. "We are told to manage 12,000 hectares of forest, but we can only assign five officers to the work," he said, adding that the officers 'have to protect the forest with empty hands'.

The forest owner, who felt powerless in dealing with deforestation, has asked for help from the Dak Rong commune People's Committee and Dak Rong Forest Ranger Unit. However, this did nothing.

A check-point station was set up from mid-November 2016 to January 25, 2017 and during that time, locals stopped going to the forest. However, as soon as the station was removed, people once again rushed to start cutting down trees.

The devastation occurs not only in the hot spot of Quang Tri province, but in many other localities throughout the country.

Nguyen Van Dung, mayor of Hoi An City in Quang Nam province, said the narrowing of protection forest has caused serious problems to local authorities.

Local people in the tourist city have encroached on protection forest areas to develop tourism. Restaurants and hotels have been mushrooming along the coastal roads. 

They don't think about what will happen if storms rush down and forests no longer exist there to protect them.

In related news, the Tien Lang district authorities in Hai Phong City is dealing with a case in which 750 square meters of protection forest have been devastated just 2 kilometers from dyke footing.

In Ca Mau province, four hectares of important protective forest were found destroyed. 
RELATED NEWS
Vietnam sets goals for sustainable forestry development
Binh Phuoc authorities apologise for forest destruction
Thien Nhien