HCM City on Wednesday installed an automatic public toilet at 116 Nguyen Du Street in District 1.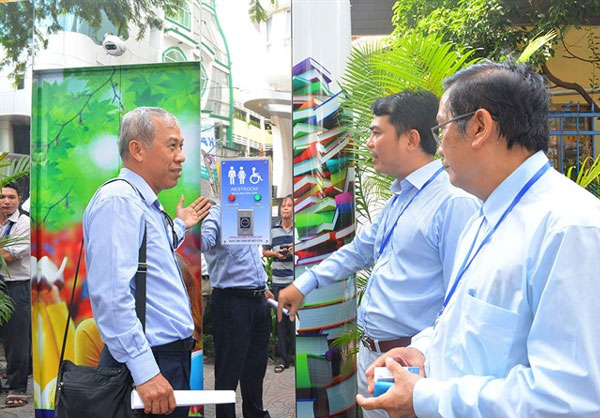 HCM City's leaders examine the newly installed automatic public toilet on Nguyen Du Street in District 1. 
The public toilet is part of the city's preparation to install 200 automatic toilets this year, mostly at bus stations.
The toilet, built based on ASEAN's Public Toilet Standards, has an area of 2.2 square metres. On its top is a solar panel that provides power for the toilet, while its exterior is covered with mirrors.
The toilets have a handrail for children and the disabled, and an automatic door which can open during a power outage.
For a limited time, use of the toilet will be free of charge.  
HN public toilet construction behind schedule
Ha Noi plans to build 1,000 public toilets, 200 of which were supposed to be operational before the Tet holiday. However, a month after the New Year began, only two have opened.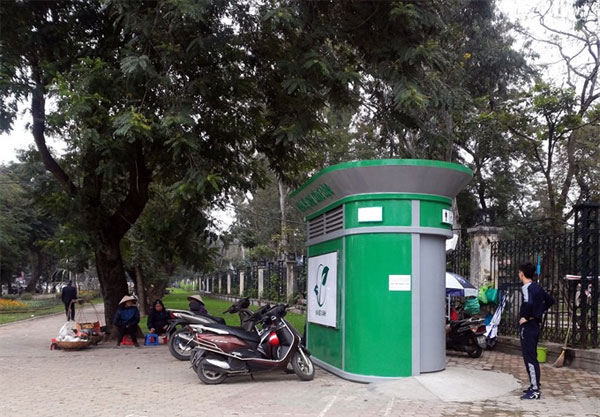 Ha Noi's first public toilet programme prototype can be seen near the Thong Nhat Park. The capital city plans to build 1,000 public toilets. 
Last August, the municipal People's Committee approved in principle the construction of 1,000 public toilets in the city. Vinasing Trading and Communication Joint Stock Company was chosen for the job.
The company claimed it would build, maintain and operate 1,000 environmentally-friendly, high-quality public toilets around the city. In exchange, the company would be allowed to put up advertising billboards on the city's footbridges and overpasses in ten years.
But so far, only 55 toilets have been completed, of which, only two have been opened to the public: one in front of the Thong Nhat (Reunification) Park in Tran Nhan Tong Street and another near Yersin Flower Garden in Le Thaanh Tong Street.
Bui Thai Song, representative of Vinasing Trading and Communication Joint Stock Company, told Tien Phong (Vanguards) newspaper that as scheduled, the company would put into use 100 more toilets by the end of this month.
Explaining the behind-schedule building process, Song said the company's workers faced strong opposal from people living nearby when implementing the construction.
Although the company insisted that the toilet was a modern model with no smell, many insisted in moving the toilet to other places far away from their homes.
He said local authorities should inform local residents about the project and the position of the toilets. It will help garner support from local residents.
Some other toilets were forced to stop construction due to underground construction works, he added.
The project of building 1,000 toilets, which was approved last August, aims to solve a serious shortage of public toilets in the city. There are some 350 public toilets around the city, many of them dilapidated and dirty.
VNS