VietNamNet Bridge - The volume of freshwater on canals in the Mekong Delta has decreased quickly, while saline intrusion has begun in many areas.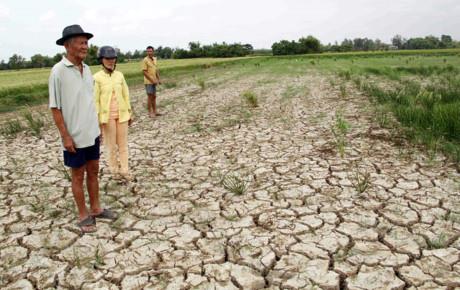 Kien Giang has 200 kilometers of coastline. The sea is only several kilometers from production areas and the province's central areas such as Rach Gia City, Hon Dat, Chau Thanh, An Bien and An Minh districts.

In 2015 and 2016, hundreds of thousands of households in the province experienced tough days when they lacked freshwater. The water supply plant in Rach Gia City could not provide enough fresh water to locals as the input water had high level of salinity. Agricultural production then suffered heavily with tens of thousands of hectares of rice withering.
The volume of freshwater on canals in the Mekong Delta has decreased quickly, while saline intrusion has begun in many areas.
Therefore, as soon as the 2017 began, the provincial authorities released an instruction to strengthen measures to prevent drought and saltwater intrusion. Building temporary dams to prevent saltwater and retain freshwater for agricultural production and daily life is considered the optimal solution.
Nguyen Van Tam, director of Kien Giang agriculture department, said since mid-January, dams have been built on the canal branch in Rach Gia City and the Rach Gia – Ha Tien Canal in Kien Luong district to prevent saltwater at estuaries from intruding into interior fields.
The solution not only helps protect production, but also prevents saltwater from reaching the reservoirs at the Rach Gia Water Supply Plant. 
In Dong Thap province, in order to ensure enough water for 232,164 hectares of summer-autumn rice and short-term industrial crops, the provincial authorities have set up a plan to prevent and fight drought to protect production. 
Farmers have been instructed to water rice fields in a reasonable way to save water in the context of water shortage and possible electricity outage in dry season.
In Ca Mau province, the salinity in coastal areas has begun rising with salinity in the eastern and western parts having reached 25 thousandths. The salinity is still safe for shrimp, but threatens rice cultivation area near the sea.
Nguyen Long Hoai, head of the Ca Mau provincial Irrigation Sub-department, said this year's drought is forecast to be less severe than previous years, but local authorities and people have geared up to prepare for the fight against saltwater intrusion.
The water level has begun falling in U Minh Ha – Ca Mau Forest. The water level at the cajuput forest has decreased by 15-20 cm compared with late 2016. 
And it is the time for Ca Mau's people to prepare to prevent forest fires, which are danger in dry season. U Minh Ha Forestry Company Ltd has set up 20 pump units ready to serve fire prevention and firefighting. 
Kim Chi