VietNamNet Bridge - A pregnant elephant in Dak Lak will give birth in late autumn 2017, which is expected to help develop the provinces' herd of elephants. For the last 30 years, the Central Highlands has not seen any births from tamed elephants in the area.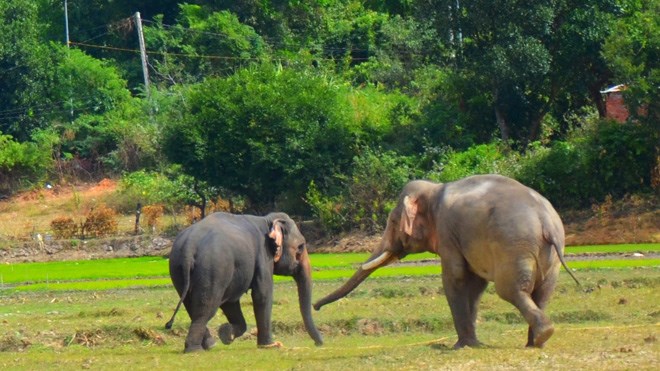 One year ago, the elephant Y Mam, about 40, with well-proportioned tusks, owned by Dang Nang Long in Lien Son Town, and Ban Nang, a wild 37-year-old female elephant belonging to Ama Mu family, were introduced. 
The female elephant is called different names – Pak Nang, Bok Nang and Ban Nang, but all of them mean 'beautiful elephant'.
Some months later, the elephant owners discovered changes to Ban Nang's breast, and reported this to the Dak Lak Elephant Conservation Center.
A group of scientists, with an ultrasound, examined Ban Nang. Dr Willem Schaftenaar, who worked for Rotterdam Zoo conducted the ultrasound exam. 
The ages best for elephants to get pregnant and give birth are seven to 12. Therefore, scientists had to carry out different tests on Ban Nang, who is relatively old to carry to make a devision on allowing the birth.
For the last 30 years, the Central Highlands has not seen any births from tamed elephants in the area.
The scientist confirmed the pregnancy and said that Ban Nang would give birth in October 2017.

The Buon Don Elephant Conservation Center keeps regular contact with the family and sends staff to the locality to examine Ban Nang every week, as the family wanyed to keep the elephant at home.

Dang Nang Long is a famous mahout in Dak Lak and Vietnam. Growing up in a family which owns the biggest herd of tamed elephants in Dak Lak, Long followed his father to the jungle to hunt elephants and tame them when he was a boy. 

In the last 30 years of taming elephants, Long's family once had up to 12 elephants, the largest herd owned by a family in Dak Lak.

Long, who is now the owner of seven domestic elephants, has been trying to connect with dozens of other elephant owners to pair many couples of elephants. 

However, it is a difficult job, as other elephant owners won't be able to make money with the elephants during the three years when elephants are pregnant and have to take care of their babies.

A report of the Dak Lak Elephant Conservation Center showed that the herd of domestic elephants now has 25 females and 19 males.
Mai Chi