VietNamNet Bridge - Coral reefs, which provide a habitat for aquatic creatures, are increasingly in danger because of human exploitation activities.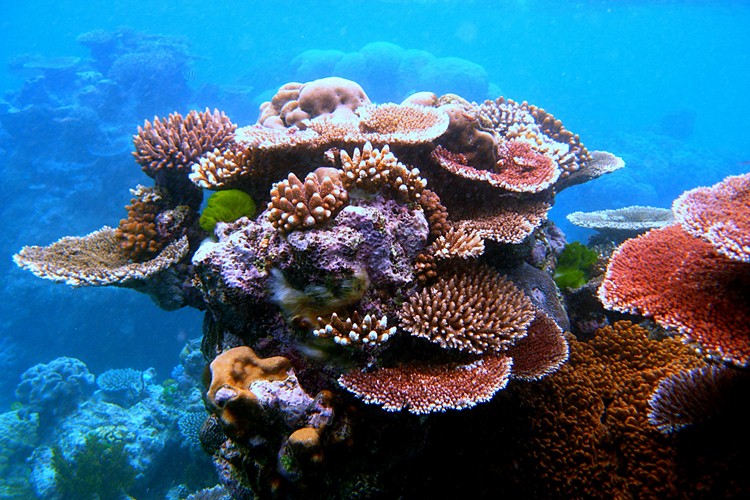 Binh Dinh province has 134km of coastline with coastal waters surrounded by small islands and a diverse ecosystem comprising coral reefs, seagrass beds and aquatic animals.
The province is rich in aquatic resources with more than 500 fish species, 38 of which have high economic value. Pelagic fish accounts for 65 percent of total reserves, about 38,000 tons, while ground fish accounts for 35 percent of total reserves, or 22,000 tons.
The province has the fleet of 7,339 fishing boats with total capacity of 980,838 CV. The sea resources and biodiversity in the locality bring a comfortable life to local people.
However, Tran Van Phuc, deputy director of Binh Dinh Agriculture Department, said the environment and local biodiversity have been seriously degrading. 
Coral ecosystems, seagrass beds and fisheries resources have gradually disappeared due to fishing activities with explosives, poisons or trawling.
"Fishermen exploit all fish – from gravid to mature ones," he said. "More seriously, fishing boats and tourist boats anchor there, leaving no room for aquatic creatures to gather and multiply."
Also according to Phuc,  local authorities are aware of the danger to the ecosystem as a sea ecosystem protection project has been operating for a year.
Coral reefs, which provide a habitat for aquatic creatures, are increasingly in danger because of human exploitation activities.
The provincial agriculture department and MCD (Marinelife Conservation and Community Development) help fishermen manage the coastal waters, with the aim of conservation and development of resources of coastal areas.
"We dive in the sea twice a month to catch starfish, the species that harms coral," said Nguyen Ton Xuan Sang, deputy director of the Nhon Hai Tourism & Service Cooperative.
However, the major problem lies in the fact that the seven hectares of water surface with beautiful coral reef beneath and around big Hon Kho Island, which was protected well for many years, has been allocated to Tan Phat Company for tourism development. The area has been seriously damaged, while no solution has been found. 
A local man said the two hectares of coral reefs on the small Hon Kho Island are also in danger. More than 108 hectares of coral reefs in the entire coastal BInh Dinh area is in the same situation.
According to Nguyen Van Tien, deputy chair of Nhon Hai Commune, after the water surface was allocated to Tan Phat, the coral reefs around big Hon Kho were destroyed. 
Tien fears that if Tan Phat continues to fail to manage its project, coral reefs would be wiped out in the near future.
Thanh Mai