VietNamNet Bridge – The People's Committee of the Dong Thap has approved a VND664 billion ($29.4 million) subproject to improve the drainage capacity and develop sustainable livelihoods for the Dong Thap Muoi wetland.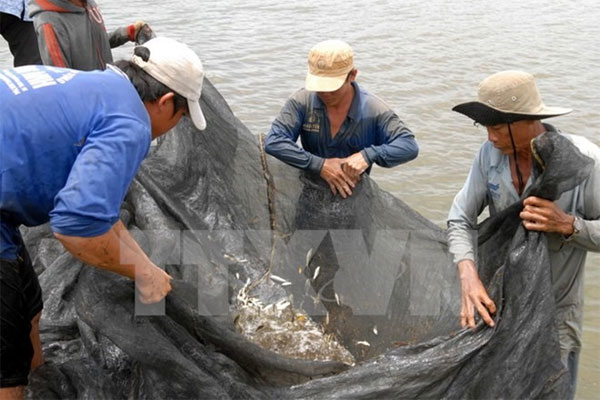 Farmers in Hong Ngu District, Dong Thap Province fish during the floating season. — Photo: VNA/VNS

The project will be implemented from 2017-20 in some 22,000ha of the area. Eighty-six per cent of the total investment ($25 million) comes from ODA loans from the Government's budget.  
It is part of a project to build integrated climate resilience and ensure sustainable livelihoods for the Mekong Delta.
The subproject aims to improve the area's capacity to tolerate adverse weather, reduce climate change risks and ensure better livelihoods for 11,400 households in the Hong Ngu Town and in the districts of Hong Ngu, Tam Nong, Thanh Binh, according to Nguyen Thanh Hung, vice chairman of the province's People's Committee.
It also aims to proactively regulate water sources and control floods in order to enhance the added values of the province's agricultural production and freshwater aquaculture.
The subproject's irrigation constructions are not intended to resist floods to cultivate the third rice crop within a year, but to re-organise production to improve the livelihoods of local people.
The subproject proposed three sustainable livelihood models that involve intercropping rice cultivation with fish and crayfish farming.
The models will be developed with both structural measures – upgrading the dyke and drainage systems – and non-structural measures, such as encouraging local farmers to develop aquaculture, building cooperatives and instructing farmers on the production and preservation of aquaculture products. 
VNS