VietNamNet Bridge - The garbage collection in urban areas is mechanized, while the work is still done manually in rural areas with low productivity and efficiency.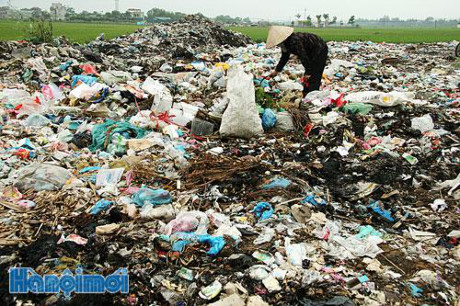 In rural areas, garbage collection is done by self-managed units in hamlets and communes. Garbage is collected from residential quarters, gathered in certain places and then carried to the city's concentrated treatment plants. 
Since there are not enough dumpers, garbage cannot be collected in the right way and the collection time is erratic. Garbage is often left in residential quarters. In most cases, garbage is only collected once every 2-3 days, or 10 days. The places where garbage are gathered are within residential quarters, but the rubbish is not covered in a hygienic way.
Domestic garbage can be found on inter-hamlet and inter-commune roads, from non-biodegradable waste such as plastic bags to dead animals, shells and plant protection bottles. Garbage is also thrown in ponds, lakes and canals.
The garbage collection in urban areas is mechanized, while the work is still done manually in rural areas with low productivity and efficiency.
According to Le Van Vung, deputy head of Phuong Dong hamlet in Chuong My district, garbage cannot be collected everyday, because collectors are not trained well and they don't like the jobs which cannot bring big money. Meanwhile, it is very difficult to collect environment fee from locals.

Believing that the problem lies in bad management, deputy chair of Chuong My district Nguyen Minh Ngoc said in some districts, garbage collection is assigned to the urban area management unit, while in other districts, it is the environmental division or land development center in charge of the work.

According to a report, there are 5,000 hygienists in 17 suburban districts, and each of them earns VND2.5 million a month only.

Emphasizing that environmental sanitation still cannot meet requirements, Hanoi Mayor Nguyen Duc Chung instructed district authorities and agencies to view garbage collection and treatment as well as environmental protection as one of their most important tasks.

The Hanoi Construction Department has been appointed as the state management agency for major responsibility for solid domestic waste and waste water treatment.

From 2017, Hanoi will stop 'ordering' contractors but instead will invite bids to choose sanitary service providers. Service providers will have to satisfy many requirements set by municipal authorities, including labor contracts with workers, vehicles and instruments to collect garbage and modern waste treatment technologies.

Deputy chair of the Vietnam Association for Urban & Industrial Zone Environment Nguyen Van Hoa believes that the bidding mechanism will be more reasonable than the current self-management, because more service providers have opportunities to undertake the job of garbage collection, and the service quality will be improved.
Kim chi