VietNamNet Bridge – Dust concentration in the air, both in Ha Noi and Ho Chi Minh City, was several times higher in 2016 than the levels recommended by the World Health Organization (WHO), endangering resident's health.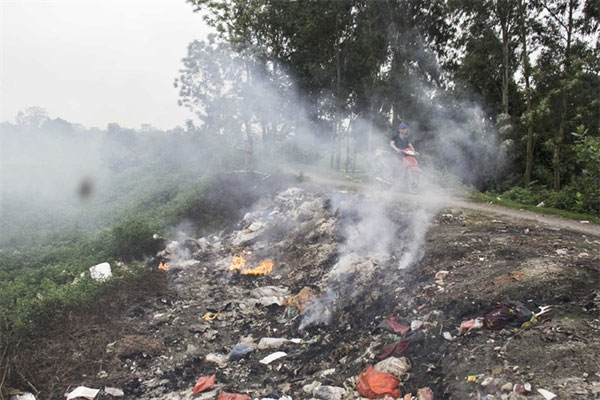 Air pollution caused by rubbish burning in Ung Hoa District, Ha Noi. According to WHO criteria, Hanoians suffered 282 days of poor air quality in 2016. – Photo: VNA/VNS 
In Ha Noi, the dust concentration reached up to 50,5 mg per cubic metre, five times higher than the WHO  recommended level. In HCM City, the dust concentration was double the recommended level.
The data was presented yesterday along with a report compiled by the Green Innovation and Development Centre (Green ID) in Ha Noi.
The report analysed available data on air quality index (AQI) and particle matter 2.5 (PM 2.5) provided by the US Environmental Protection Agency's website www.airnow.gov.
According to WHO criteria, Hanoians suffered 282 days of poor air quality in 2016. According to the national Vietnamese standards, Hanoi and HCM City dwellers inhaled poor-quality air during 123 days last year - 175 days in the capital and 14 days in HCM City.
"We could see people wearing masks everywhere to protect themselves from air pollution - at bus stations, schools, streets and crowded areas," said Do Manh Cuong, deputy head of the Public Health Office under the Ministry of Health. "We can choose what to eat, what to drink but fail to choose the air we breathe," Cuong said.
Forecasts from the Ha Noi's Natural Resources and Environment Department show the number of people contracting respiratory tract diseases could double by 2020 if no effective measure is taken to curb air pollution in the city, he said.
Of top ten diseases in terms of numbers of those contracting them, three are of the respiratory tract - pneumonia, bronchitis and tonsillitis, he said.
Solutions
Do Xuan Hoan, a Green ID researcher, said at yesterday's event that domestic agencies face a double challenge in managing and minimising air pollution and its impact on human health.
The reasons mentioned for the pollution were diverse, from vehicle fumes, waste burning, construction sites and industrial production, he said. Given the varied causes, required measures were also diverse.
Nguyen Thi Kim Khanh, Green ID's director, advised Viet Nam to consider issuing a law on clean air that leverages the national standards on clean air as global standards. In the short-term, each person should wear masks to protect themselves from PM 2.5, she said. 
VNS