VietNamNet Bridge – Urbanisation and a sharp increase in population have presented a number of challenges for Ha Noi, one of which is the collection and treatment of household waste in a way that causes minimal impact to the environment.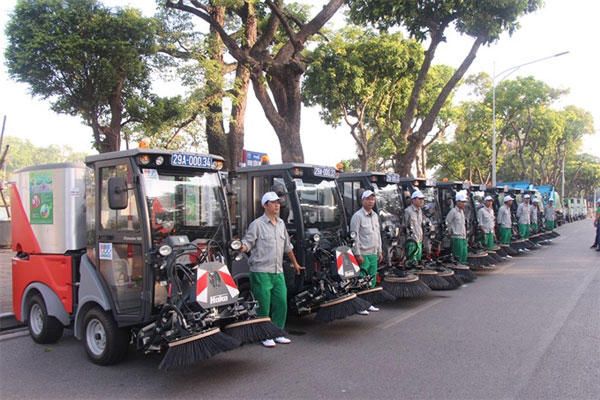 Workers of the Ha Noi Urban Environment One Member Co Ltd stand by City Master trucks which will be used to collect gabbage in the capital city. 
Ha Noi discharges nearly 5,400 tonnes of household garbage per day, of which 3,200 tonnes come from urban areas, and the remaining waste from rural areas, according to the municipal Department of Natural Resources and Environment.
However, only 70 per cent of the garbage was transported to treatment zones.
Last year, four main districts Ba Dinh, Hoan Kiem, Hai Ba Trung and Dong Da used trucks to collect garbage. But in other districts, collections were still conducted with handcarts, which are less environmentally friendly and tend to exacerbate traffic congestion.
Nguyen Xuan Tuan, who works as a motorbike taxi driver in Hai Ba Trung District, said that water leaking from the garbage has a bad smell and attracts a large amount of flies.
Nguyen Thi Xuan, another resident in Yen Hoa Ward, Cau Giay District, said that after the carts were emptied they were not covered or cleaned, thus causing an unpleasant odour for local residents.
A report in the Ha Noi Moi (New Ha Noi) newspaper showed that in suburban districts such as Phuc Tho, Quoc Oai, Ba Vi and Chuong My, daily collection and treatment of garbage was undertaken only in main towns, while remote communes saw collections only once every three days.
Nguyen Huu Tien, director of the Ha Noi Urban Environment One Member Co Ltd (URENCO), told the newspaper that main districts of the capital city now lacked garbage collection stations, so garbage is gathered on the street before being taken to garbage treatment zones, causing environmental pollution.
The garbage collection stations had not been built because districts could not arrange proper land for them, said Tien.
Besides, some residents often left their rubbish on streets and in public places, making collection difficult, he said.
Recently, the Ha Noi People's Committee asked URENCO to use trucks to collect and transport household waste in main districts, and complete procedures to set up a garbage collection station in Bo De Ward, Long Bien District.
The municipal People's Committee also asked the Ha Noi Department of Planning and Investment to call on investment to build another garbage collecting station of about 1.5ha, in Tay Mo Ward, Nam Tu Liem District.
Other districts were requested to conduct surveys and research to find suitable places to set up garbage collection stations and then report back to the municipal People's Committee. 
VNS