VietNamNet Bridge – Vietnam's demand for water is skyrocketing while water resources are being depleted, certain river basins are being overexploited and competition for water resources is soaring.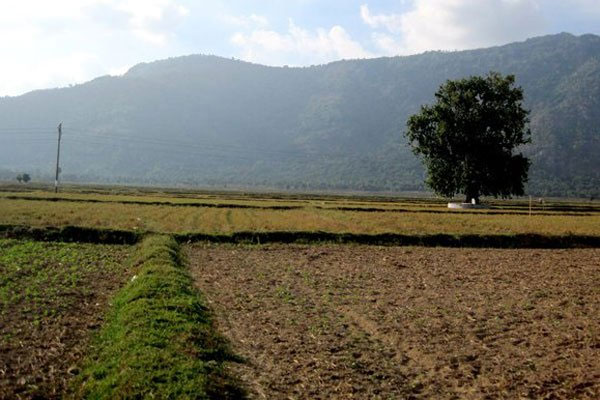 File photo of a dried up rice field in the Mekong Delta. Vietnam's demand for water is skyrocketing while water resources are being depleted – Photo: Trung Chanh
The Ministry of Natural Resources and Environment said in a report that the basins of some rivers like Ma, Huong and Dong Nai are being overused during dry months.
The report, which came out on January 9, issues a warning against significant impact on the lives of many people as underground water resources are being overexploited, water pollution is worsening, and upstream forests are overexploited, leading to water shortages in the dry season and flash floods and landslides in the rainy season.
Climate change, rising sea levels and saltwater intrusion have left strong impact on aquaculture in many parts of the country, inflicting huge damage on Vietnam's agriculture in 2016.
The environment ministry pinpoints another worrying issue: rapid land degradation. South-central provinces are facing a rapid pickup of desertification and the Mekong Delta is struggling with land subsidence and flooding, affecting socio-economic development.
It is forecast that 828,000 hectares of land in the Mekong Delta will be affected by salination and over 400 hectares by acidity. The provinces forecast to be hardest hit include Kien Giang, Bac Lieu, Tra Vinh, An Giang, Ca Mau, Soc Trang, Vinh Long and Long An.
Nearly 2.3 million hectares of land in the northern midland and mountainous region might be degraded, heightening landslide risk. The south-central coast will have nearly 56,000 hectares of land affected by saltwater and 759,000 hectares of land by desertification.
The average water volume per capita is currently 3,400 square meters a year, which is expected to drop to 2,830 square meters by 2035. Meanwhile, the International Water Resources Association (IWRA) classifies a nation with less than 4,000 square meters per person a year as water-stressed.
Even the Mekong Delta, which is home to some 61% of Vietnam's water resources, is facing water resource challenges as the countries in the upper reaches of the Mekong River are developing hydropower projects on the mainstream of the river.
"In 2017, climate change is projected to happen faster than expected, triggering devastating disasters that would lead to human and property losses, resource degradation and depletion, increasingly rampant environmental pollution, biodiversity decline, and ecological imbalance on a large scale, negative affecting socio-economic development, and people's health and lives," says the report of the environment ministry.
SGT