Projects which fail to meet waste treatment requirements would be rejected, and completed projects would only be put into operation when their treatment of waste water treatment met environmental standards, Deputy Prime Minister Trinh Dinh Dung has stressed.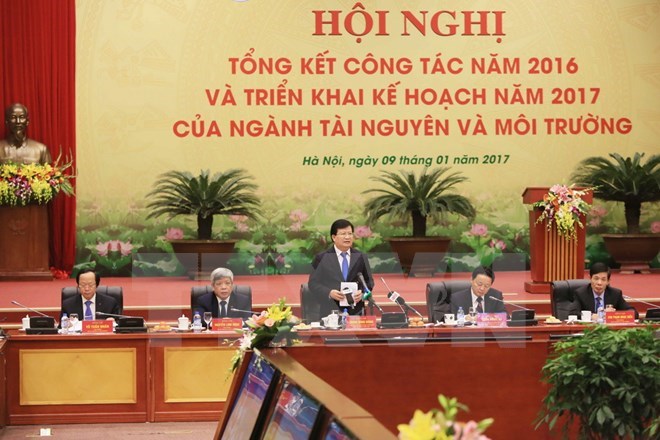 Deputy Prime Minister Trinh Dinh Dung speaks at the conference.
For Taiwanese steel firm Formosa, for instance, the Ministry of Natural Resources and Environment (MoNRE) must strictly control the firm's production technology and environmental protection technology to ensure it meets conditions for operation.
He made the statement at a recent conference to review last year's performance of the Environment and Natural Resources Ministry as well as to introduce its working plan for this year.
MoNRE Minister Tran Hong Ha said last year marked a milestone in improving the legal framework with new laws like the Law of Measurement and Mapping, and the issuance of 14 draft decrees and 49 circulars.
The ministry managed to coordinate with the Ministry of Justice to amend regulations on investment and business in order to remove barriers for enterprises. The scenarios for Vietnam in the face of climate change were completed to help all sectors complete their development plans. It submitted its land use plan by 2020 to the National Assembly.
Water resources, land, and minerals were under increasingly strict management. Last year, revenue from natural minerals was over 5.5 trillion VND (244 million USD) and from land was 68 trillion VND (3 billion VND), accounting for 8.07 percent of the State budget's revenue.
The reform of administrative procedures was innovated. Procedures for granting land use certificates and registration of land change were shortened to between 2-20 days.
Last year saw strong punishments across the country with 6,400 major polluters facing sanctions. As much as 60.8 billion VND (2.69 million USD) was collected in fines, and 5,348 hectares of land was revoked.
Speaking at the conference, Deputy Prime Minister Dung said in terms of administration reform, people still found it difficult to get land use certificates, undergo procedures for environmental impact assessment and receive site clearance compensation.
On the tasks for the coming year, he said it was priority to complete mechanisms and policies to improve the effectiveness and efficiency of State management on natural resources and the environment.
In particular, he asked the ministry to supplement the Law on Land to promote the process of industrialisation and modernisation of agriculture and rural areas.
He also required the strengthening of evaluation and environmental impact assessments for construction projects.
In the near future, Dung said it was necessary to supervise and classify pollution sources into rivers, sea, and the air at large businesses and thoroughly handle violators.
VNA