Vietnam is one of the countries worst hit by climate change. In 2016, the national climate change strategy has received strong support from the international community.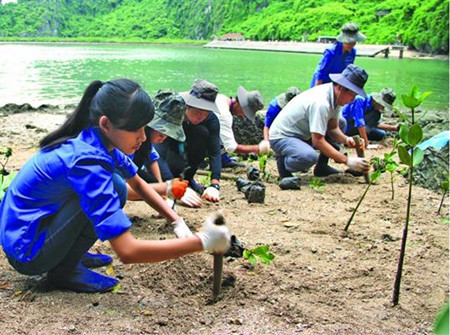 The Global Climate Index indicates that Vietnam ranks 5th among countries most affected by natural disasters, which kill hundreds of people and cause losses of US$1.9 billion or 1.3% of GDP each year on average. 
Vietnam has been pursuing a national strategy on climate change as well as other strategies on green growth, natural disaster prevention and control, and renewable energy development.
International support
Many countries and international organizations have pledged assistance for Vietnam's climate change response. 
During a visit to Vietnam last May, UN Deputy Secretary General Jan Eliasson said the UN will help Vietnam cope with droughts and saline intrusion. 
The UN plans to mobilize US$50 million from the international community to support countries like Vietnam that are affected by salinization.
Visiting Vietnam in November, European Commissioner for Environment, Maritime Affairs, and Fisheries Karmenu Vella said that the EU is committed to helping Vietnam in climate change response, marine environment management, marine energy development, and the sharing of marine research information. 
In 2016, the World Bank approved a US$310 million credit to help Vietnam build climate resilience and ensure sustainable livelihoods for 1.2 million people living in nine Mekong Delta provinces affected by climate change, salinity intrusion, coastal erosion, and flooding.  
Effective implementation of projects  
Many climate change projects with international assistance are under way in Vietnam. 
A project to reinforce a 1.6 km dyke section has prevented saline intrusion in Tam Giang commune, Quang Nam province. 
Versatile houses and fresh water supply facilities have been built in areas frequently hit by natural disasters or prone to salinization. 
The Asian Development Bank is also implementing a flood and drought risk management and mitigation project for countries in the greater Mekong sub-region including Vietnam.
"The Government has been drumming up support from other countries to fight climate change in the Mekong Delta. The Prime Minister has approved a national target program on green growth, which also calls for foreign cooperation", said Minister of Natural Resources and the Environment Tran Hong Ha.
Since 2010, the national target program on climate change response has received more than US$1 billion in international soft loans. Natural disasters are forecast to cause losses of between 3% and 5% of Vietnam's GDP by 2030.
VOV5