VietNamNet Bridge – Pollution from pesticides has reached alarming levels in some provinces of the Red River Delta, known as the granary of Viet Nam's north.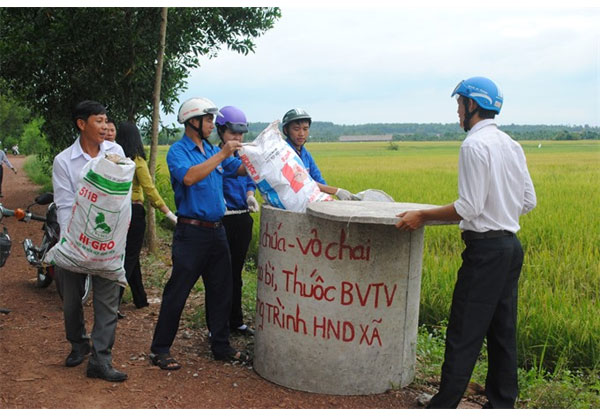 Young volunteers collect empty pesticide bags and bottles left on a field in Thanh Tuyen Commune, Dau Tieng District in southern Binh Duong Province. — VNA/VNS Photo
Leaks from old pesticide warehouses dating back to the 1970s and 80s plague the region; these persistent organic pollutant (POP) remnants threaten the environment and agricultural production.
According to an incomplete 2013 survey by local authorities in northern Thai Binh Province, there were some 291 old pesticide warehouses covering a total area of 52,400 sq.m.– of which, 5,700 sq.m was heavily polluted and 8,700 sq.m considerably polluted.
The polluted areas are now mostly empty lots or abandoned storage grounds. Most warehouses previously stored large stockpiles of the highly toxic pesticide DDT or 666 – the entirety of which had been distributed before the warehouses were shut down.
The amount of POP – specifically, DDT and HCH levels – was higher than permitted for pesticide residues in soil, according to Viet Nam's national standards. However, the pollution level hasn't reached the point where remediation is required.
 "Pesticide warehouses didn't exercise proper storage practices, causing a considerable amount of pesticides to seep into the ground. However, since we don't have much money at our disposal, the treatment can't be done thoroughly," Le Xuan Hoa, deputy head of the provincial Department of Crops and Plant Protection, told the Nong Nghiep Viet Nam newspaper (Viet Nam Agriculture).
"Such warehouses have been replaced by paddy fields, orchards, or houses. But if we dig a little further, the pollution remains; after rains, the remnant pesticides give off a foul smell," he added.
About 10-15 years ago, cement landfills were built to store used pesticides, but they broke down, so now pesticides are dumped carelessly in farmlands and pathways.
Another northern Nam Dinh Province shares the same problem, with pesticide packages not being separated from ordinary household waste, while people continue to wash pesticide sprayers directly in rivers and canals, contaminating both surface water and groundwater, said Tran Ngoc Chinh, Head of the provincial Department of Crops and Plant Protection.
Also according to the department, monitoring of pesticide production and trade in many localities remains lacking.
Many pesticide sellers mix a number of pesticide products together to sell to farmers, or deliberately sell low-quality products to fields without pests, against agencies' guidelines.
Due to a lack of labour, the spraying of pesticide is outsourced to pesticide sellers. Coupled with a limited number of inspectors, control efforts were further complicated.
Authorities now rely on awareness campaigns and training classes, encouraging farmers to replace toxic pesticides with more environmentally friendly products, which have achieved some successes.
In 2016, in Nam Dinh Province, 27 out of 462 inspected pesticide sellers were fined a total of VND 40 billion; 386 out of 1,653 households were using pesticides in violation of guidelines.
Source: VNS