VietNamNet Bridge - The loss rate in catfish farming has been increasing in recent years, mainly due to environmental damage.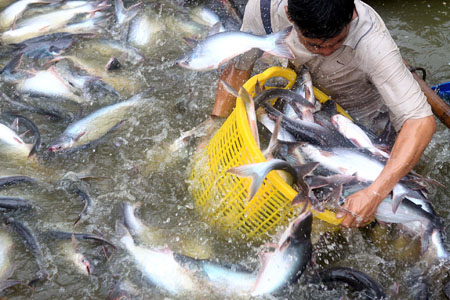 The Mekong River Delta, with the Tien and Hau Rivers of 400 kilometers in length, is an ideal area for farming catfish. 
As cultivation is simple, catfish breeding in recent years has expanded, and most of the provinces now have catfish programmes.
The loss rate in catfish farming has been increasing in recent years, mainly due to environmental damage. 
Reports show there are about 5,000 hectares of intensive catfish farming in the Mekong Delta, with a large scale closed process of breeders, feed, farming and processing.

Intensive farming includes a large volume of input materials but only a small volume of harvested fish. The remaining is waste discharged to the environment. 

Industrial feed with high nutrients, rich in protein and phosphorus, affects water quality. 

Farmers estimate they use 1.7-2 kilos of general feed for one kilo of fish. This means that every kilo of fish will produce 0.7-1 kilos of waste, including unused feed, which goes to ponds. 

According to the Vietnam Association of Seafood Exporters and Producers (VASEP), in 2015, the whole Mekong Delta provided 1 million tons of catfish to processing plants. 

This means that in 2015, nearly 1 million tons of feed waste was discharged from fish ponds. Besides, there was a big volume of chemicals put into the ponds to treat the environment and help prevent diseases.

Research shows that catfish can absorb 27-30 percent of nitrogen (N), 16-30 percent of phosphorus (P) and 25 percent of organic substances from feed. 

An experiment on breeding catfish for 90 days found that fish can absorb 37 percent of N and 45 percent of P from feed. 

As such, in order to obtain 200 tons of fish per hectare with the FCR (feed conversion ratio) of 1.8, at least 360 tons of feed are needed, which means organic waste discharged into the environment would be nearly 290 tons.

To improve quality in catfish ponds, water is often changed. Nutrients, algae and pollutants go out of the ponds and are replaced with higher quality water.

However, scientists pointed out that this solution is just temporary and cannot settle the existing problem. The unreasonable process of changing the water will cause pollutants to from one pond to another.

According to the Southern Water Resources institute, in Tien Giang province, the pollution level in the catfish farming region is relatively high with 80-82 percent of nitrogen soluble under NH4+ form, 32-46 percent of carbon content in soluble form and 54-68 percent in suspended form.
Nong Nghiep