VietNamNet Bridge - Relocating 26,000 households and clearing the slums along canals is one of the seven key projects of the HCM City gentrification program.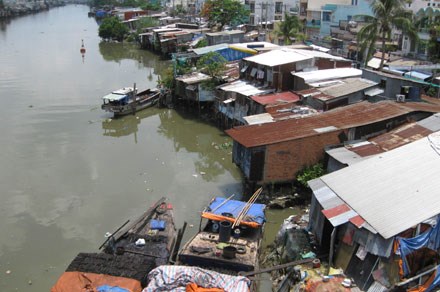 A research work by Dr Le Huy Ba and architect Le Minh Thanh found that nearly 100 percent of rivers and canals in HCMC are polluted. Ninety seven percent of canals and 22.5 percent of water surface area have been encroached on by locals, who have built houses for accommodation.
About 90 percent of canals suffer from sedimentation (organic matter, garbage, gravel and hyacinth), which makes it impossible for small boats to move in low tide.
By July 15, 2016, the local authorities had discovered hundreds of cases of encroached land and solid works built on sewers and outlets, causing serious flooding at many hotspots in the city.
Meanwhile, odor pollution is the typical characteristic of many canals in the city such as Tau Hu – Ben Nghe, Tham Luong and even Nhieu Loc, which has been improved in a project costing $350 million.
Relocating 26,000 households and clearing the slums along canals is one of the seven key projects of the HCM City gentrification program.
It is estimated that there are 5,000 kilometers of river and canals which help drain water, fight flooding and condition the air. 
However, only 80 kilometers have been dredged and upgraded over the last tens of years. Many things still need to be done to turn HCMC into a livable and civilized city.
According to architect Thai Ngoc Hung, the houses on the canal banks affect the urban aesthetic.  
Under the gentrification program, the city authorities have decided to relocate 26,000 households in the canal areas and clear the slums there. However, getting the capital to implement the program remains a headache for management agencies.
According to Nguyen Truong Luu, chair of the HCMC Architects' Association, the programs on upgrading the Nhieu Loc – Thi Nghe and Ben Nghe – Tau Hu Canals in the past were implemented with funding from international organizations and the state budget.
However, when the upgrading programs are implemented with capital from different sources, including investors, there could be conflicts among involved parties.
Therefore, Luu said, in order to successfully implement the programs, it is necessary to reach agreements among planners, socio-economic experts, the public, and investors.
Ngo Viet Nam Son, an architect, also thinks that investment capital and a gentrification orientation would be the biggest problems hindering the resettlement and upgrading of the areas along the canals.
Son said it is necessary for the municipal authorities to change some management policies in order to successfully call for capital for the programs. The new policies need to be open and flexible enough to encourage domestic and private investors.
Mai Nam