The Wildlife Research and Conservation Centre (WRCC) and Cuc Phuong National Park have recently successfully released 46 Javan pangolins into the wild.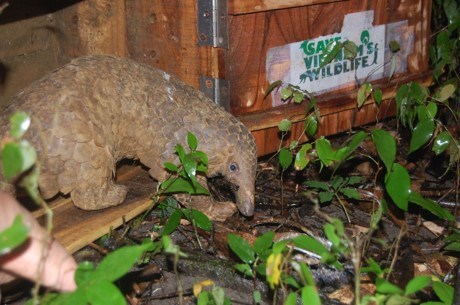 Javan pangolins 



Most of the pangolins were rescued after local police seized an illegal transport of the species in Thai Binh. 

The rescued pangolins have been provided with checkups and attached identity chips before they were released. 

Nguyen Van Thai, Director of the WRCC, said the centre has received more pangolins due to improvement in cooperation with relevant agencies. 

However, it is not just about rescuing and releasing, he added, the more importance is to improve law enforcement and to stop wild animal trafficking. 

Pangolins are the most traded animals in the world. Vietnam has two species, the Sunda Pangolin (or Javan Pangolin) and the Chinese Pangolin. Both are critically endangered, on the brink of extinction in the wild. 

The WRCC has released a total of 99 Java pangolins in the past three months.
Rare animal released into wild in Ca Mau
A large number of wild animals have recently been released into the wild, according to Nguyen Van Hai, Director of the Forest Ranger Sub-department in the southernmost province of Ca Mau.
The animals include 55 turtles; 60 snakes, snails, birds, bats, and wild ducks, which have been recovered by local forest rangers from smugglers, Hai said. 
These species are included on the list of endangered animals at risk of extinction, Hai added. 
Ca Mau is home to mangrove and cajeput forests, inhabited by numerous rare wild species, including crocodiles, iguanas, deers, boars, monkeys, turtles, vipers and birds. 
Since 2000, poaching of wild animals has been tackled thanks to stricter regulations and enhanced patrol and supervision. 
The locality has also strengthened communication work to raise awareness of the need to protect and preserve animals in the community.
VNA