Animals Asia Foundation on November 11 successful rescued four Asiatic black bears in the city of Pleiku in the Central Highlands province of Gia Lai, thanks to the efforts of a local forest protection agency to communicate with the families keeping the bears over the years.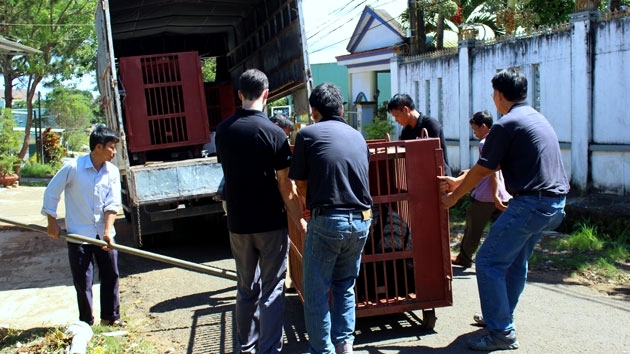 The bears will take a 1,200km journey from Gia Lai to Tam Dao National Park.
The four bears had three owners, and all three families voluntarily turned over the bears to the State, after many years of effort of encouragement from Gia Lai rangers.
The bears, two males and two females, each weighing from 80-100kg, have management records and electronic chips attached. They are old and include one amputee, and they were held captive in poor conditions on farms.
Animals Asia got information about the bears five years ago, as its experts were in Gia Lai to rescue a sun bear named Nelson, who is living in good health at the National Bear Rescue Centre in Tam Dao in the Northern province of Vinh Phuc. At that time, the bear owners still wanted to continue farming and did not intend to transfer the bears to the rescue centre.
After a period of encouragement by Gia Lai rangers, the families have now voluntarily accepted to hand over the bears, and they expressed their wish that they would be given the best care at the rescue centre.
According to veterinarian Weng Nash from the centre, the condition of all four individuals is serious, with tooth decay and hair loss. In particular, a female bear named Su Su is suffering from a large abscess and limb amputation. All the bears will be examined and will receive treatment for injuries when they arrive at the bear rescue centre.
In addition to Su Su, the remaining female bear is named Jarai, while the two males named Dau Phu ("Tofu") and Binh Minh ("Dawn").
Prof. Tuan Bendixsen, Ph.D., Animals Asia Country Representative in Vietnam, said that the foundation had made more than 150 rescue trips across the country, including even a trip across thousands of kilometres to rescue a single bear. He also praised efforts by Gia Lai rangers to encourage and support Animals Asia in successfully rescuing the four bears.
The rescue team will take a 1,200km journey to bring the bears from Gia Lai to Tam Dao National Park on November 14.
To date, Animals Asia has successfully rescued 169 bears, of which 155 are safe with adequate healthcare and nutrition in semi-natural areas at the centre.
Nhan Dan