Local authorities in Phu Quoc Island District in Kien Giang Province are searching for five local fishermen whose photos showing them killing a dolphin were shared on Facebook.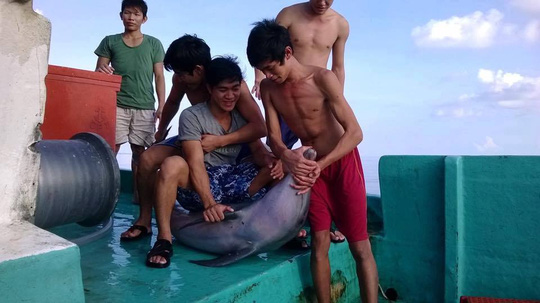 A group of five men sit on the dolphin
Photos showing the killing of an illegally-caught dolphin posted on the Facebook page of Nguoi Phu Quoc (Phu Quoc resident) were released on November 10. 
In the photos, five men sit on the dolphin and then cut off its head and stomach. 
The owner of the Facebook page confirmed that one of the men was his classmate and lived in Xom Con area, Duong Dong Town.
Many people have expressed their anger at the cruelty and demanded the authorities to investigate the case.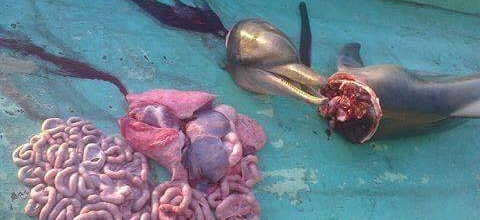 The dolphin cruelly killed
On November 11, director of Phu Quoc Marine Protected Area Ha The Phong said they were co-operating with other agencies to search for the fishermen. 
Phong said through the photos, they can confirm that it was an anchovy fishing boat working near Phu Quoc Island. However, it's not sure whether the men are local residents. 
The area surrounding Phu Quoc Island is ideal place for rare creatures like dolphins or dugong from Cambodia, Thailand, Indonesia and Malaysia to come and lay eggs. 
Even though dolphin is important to the spiritual life of the people on the island, some people still catch the rare animals just to eat them, causing the number of dolphins in the area to plummet.
"If these men are caught, we'll propose the highest administration fine of VND100m (USD4,500) if the dolphin is over 30kg. If they also catch dugong illegally then they can be prosecuted," Phong said.
Dtinews