The Ministry of Natural Resources and Environment (MONRE) reported the results of an investigation into Taiwan-invested Hung Nghiep Formosa Ha Tinh Steel Company's efforts to deal with the environmental incident it caused in four central provinces.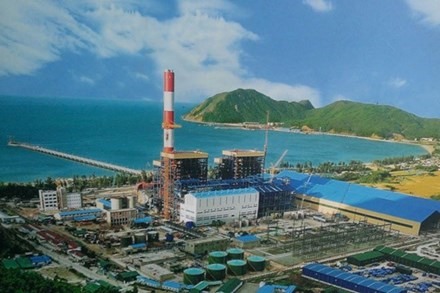 A view of Taiwan-invested Hung Nghiep Formosa Ha Tinh Steel Company. 
According to the MONRE report released on Thursday, Formosa distributed US$500 million to the Vietnamese government. The company has implemented temporary and long-term measures as required by the Minister of Natural Resources and Environment Tran Hong Ha in production technology transformation.

Formosa has constructed nine liquid waste systems for its cast iron and steel complex. Treatment stations for domestic, bio-chemical and industrial liquid waste and air treatment system are also operating up to technical standards, the MONRE said.

To improve Formosa's capacity to deal with environmental incidents, Minister Tran Hong Ha asked the company to work with scientific and technological agencies and domestic and foreign experts to upgrade environment protection infrastructure and finish the upgrades before March 31 next year.

According to the MONRE, Formosa is applying wet coke quenching technology instead of coke drying quenching (CDQ) as required.

To fulfill its pledge with the Vietnamese Government, the MONRE said that Formosa would transform technology from wet method to dry from March 31 next year and cease using the CDQ system by June 30, 2019.

Formosa will also study clean technologies for production, especially in its power plants.

According to the MONRE report, Formosa has stopped transferring nontoxic and toxic solid waste to unauthorised units for treatment.

However, the company still stores about 711.5 tonnes of toxic mud. The amount rises by 97 tonnes per month. Part of this mud has been moved to Ha Tinh Industrial Waste Processing Limited Company for transport and treatment.

Up to October 29, 125 tonnes of bio-chemical waste mud was transferred.

The MONRE assigned the Vietnam General Administration of Environment, Ha Tinh Province's Department of Natural Resources and Environment and Ha Tinh economic zone management board to inspect the company's environmental protection efforts.

Centres of Directorate for Standards, Metrology and Quality and uGeneral Administration of Environment will take samples of the waste.

The MONRE will consider allowing Formosa to resume operations only when it finishes waste treatment supervision.

Earlier in June, Hung Nghiep Formosa Ha Tinh accepted responsibility for causing an environmental disaster in the central Vietnam, which caused mass fish deaths in four provinces of Ha Tinh, Thua Thien-Hue, Quang Tri, Quang Bình.

Formosa pledged to deal with shortcomings in waste and wastewater treatment, improve its production technologies to ensure waste is completely treated before being discharged, and not to repeat such an incident. 
VNS