VietNamNet Bridge – Trees that are hundreds of years old as well as rare, valuable plants are at serious risk of being lost to rampant illegal logging and deforestation in northern mountainous Ha Giang Province.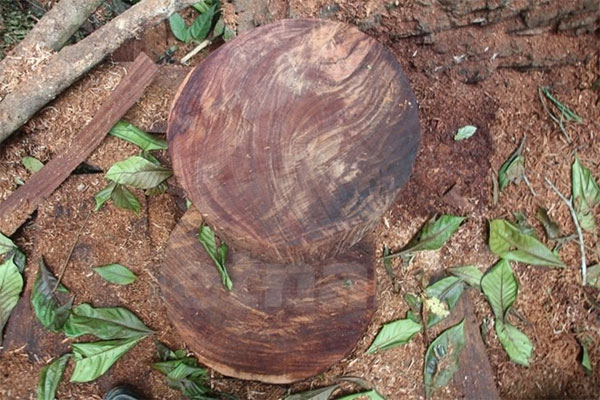 Nghien timber blocks are smuggled across the border and sold to Chinese traders for a handsome profit.

The Prime Minister has ordered the Phong Quang Special Use Forest (SUF) closed to commercial exploitation, but there has been no let up in the illegal harvesting of nghien timber.
Nghien (Burretiodendron hsienmu) is an evergreen flowering tree, found in Viet Nam and China. Nghiến timber is highly valued for its hardness, toughness, and durability.
A Vietnamplus report last week said authorities are aware of the grave situation, but unable to curb the violations.
Nguyen Van Hung, head of the Phong Quang rangers unit, said they do not have enough enforcement staff to cover this whole wide area that lies on the border with China.
Another reason was given by Dang Van Cong, from the legal office of Phong Quang rangers unit. He said given the complex terrain of the area, the only way to access the SUF was via a solitary trail on the rocky mountains, where illegal loggers constantly kept watch.
Unexploded ordinance in the area further complicates protection efforts, the report said.
The main tool used to harvest timber was the gasoline-powered saw – legitimate private property that could not be banned, Cong said.
Poachers are difficult to catch because they carry out their logging only during the night, when patrols using flashlights could easily be spotted.
Local officials say that on average, 10 nghien trees are cut down during one illegal logging trip.
Most of the loggers are locals bribed by traders to cut the precious trees and carry the timber across the border and sell them to Chinese traders.
"Some traders even buy machine saws for local people to do the cutting. A nghien block – 40-50cm in diameter and 25-30cm thick – can sell for VND1.2-1.5 million (US$54-67), sometimes as high as VND1.8 million, so the margin is certainly attractive," Hung said.
Last April, rangers in Tan Son Village (Minh Tan Commune) caught red-handed three people logging trees in the SUF and seized some 10.3 cubic metres of wood. One of the three men arrested was Sung Ngoc Chung, head of the Ta Leng Village then.
Managers' failure
Bui Van Dong, head of Ha Giang's Department of Forest Protection (DFP), said that in the first nine months of the year, 251 cases of forest resource violations were recorded and fines of VND1.8 billion ($80,700) levied.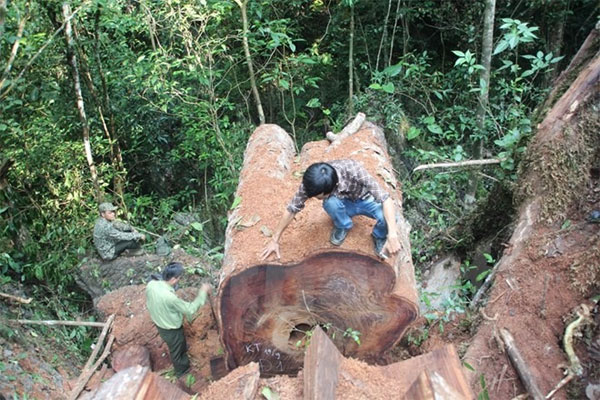 Rangers check a large nghien tree chopped down by illegal loggers in the Phong Quang special use forest, Ha Giang Province. - Photos: Hung Vo/VNA/VNS
He squarely blamed the Phong Quang SUF management board for the rampant illegal logging.
"The law clearly states that the responsiblity for deforestation lies with the forest managers. Of course, we have to see if the forest area where logging takes place has been assigned to anyone else," Dong said.
Besides prosecuting forest owners, many violations occurring in Minh Tan Commune, Vi Xuyen District, have been dealt with through 'show trials', to serve as a warning for offenders and to propagate the law.
In August, the prosecutor's office and People's Court of Vi Xuyen District organised a public trial to highlight violations of regulations on forest exploitation and protection. The trial day fell on market fair held by ethnic minorities in the area and attracted widespread attention.
Four individuals from local villages – arrested for illegally cutting down nghien trees and causing damage worth of VND77.1 million – were sent to prison for 18-30 months.
Still, experts warned that despite the authorities stepping up efforts, no headway can be made in saving the centuries-old trees without engaging locals in protection efforts.
Future capital
Nguyen Minh Tien, Deputy Chairman of the Ha Giang People's Committee, said "Forests are valuable capital for future generations," and measures are being implemented to preserve and promote this capital.
He said the provincial administration is set on providing stable livelihoods for local people as the best way to discourage them from engaging in illegal poaching.  
Concrete roads and electricity lines have been built to reach remote villages. Some households will be moved from core forest areas and others given forest tenure - where they have the rights to sustainably exploit the resources and land, but also the obligation to protect the forest.
The SUF will receive priority attention because it holds the most value and rare plants, he added. Apart from conventional awareness raising campaigns, the authorities recently utilised an age-old practice to help boost the understanding of the need to protect forest resources. The worship of forest deities residing in ancient trees will be organised more often by respected figures of local communities, rekindling a valuable tradition.
Other measures being implemented by the authority include more control on the purchase and use of saws, support for local vigilante, and collaboration with border guards in patrolling forest areas.
VNS
Hung Vo