VietNamNet Bridge – Natural forest area, located in zone 1668 and 1674 in Quang Son Commune of Dak Glong District in the Central Highlands province of Dak Nong, has gradually vanished.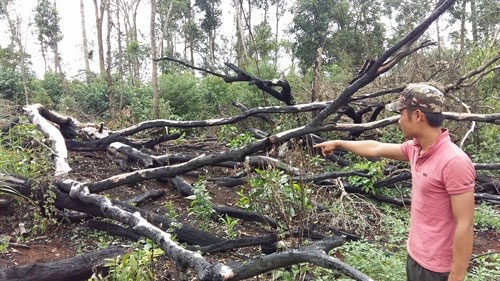 Trees logged down in Quang Son Commune of Dak Glong District. - VNA/VNS Photo
Giant forest trees have been cut down, paving the way for vegetables, passion fruits, avocado, sweet potato plants and several short-day plants to grow.
In recent years, more than 120 households have moved to cover nearly 200 hectares of land, encroaching and turning fertile bazan soil into agricultural land for cultivation.
The forest land in this area has high fertility for not only short-day plants but also long-day industrial plants such as coffee, and especially pepper plants, which bring about huge profits.
A number of coffee and pepper gardens in the area are three to five years old and are about to be harvested.
When asked by Vietnam News Agency reporter, Ha Thi Tuyet Lam, a resident in Lam Dong Province but who now lives in zone 1674 of Quang Son Commune said that her family bought a nearly one-hectare land lot from another household, who "discovered" the forest land and turned it into cultivated area.
The land has not been licensed and the land assignment is not verified by local authorities, she said.
Other residents who illegally encroached on forest land eluded or refused to reply to reporter's questions.
According to Quang Son Commune locals, the forest land encroachment, destruction and purchase have been reported publicly and caused public outrage. Forest land belonging to the area has been published for sale with prices of up to hundreds of millions of dong per hectare.
Meanwhile, local authorities only record the forest encroachment but have no idea about how many households are illegally living in the encroached area.
Ngo Quang Sang, deputy chairman of Quang Son Commune's People's Committee said that zones 1668 and 1674 are under management of Dak N'Tao forestry company.
Based on reports on violations, the local People's Committee asked the company to replant the logged trees. However, while the trees have not been planted, residents continue to encroach on the land.
According to forest rangers of Dak Glong District, unless households move out of the area, hundreds of hectares of forestry land in and surrounding zones 1668 and 1674 will fade away and be turned into agricultural land.
Le Quang Dan, deputy chairman of Dak Glong District's People's Committee said that the committee has asked authorised agencies and forest owners to review and count how many households are living in the forest.
The district will ask for the province's permission to withdraw and recover encroached land following the Prime Minister's directive on strengthening forest protection and preventing deforestation, he said.
VNS