VietNamNet Bridge – A fisherman in the Central Highlands province of Dak Lak on Monday caught a giant catfish weighing nearly 130kg, 2.2m long in the Serepok River in Buon Don district.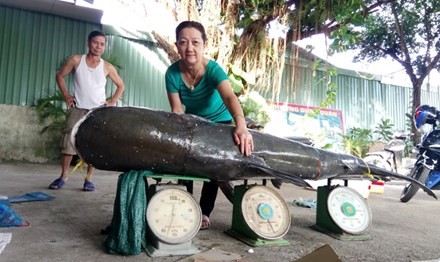 The fisherman sold the giant catfish to a restaurant in Hoa Phu Commune, Buon Ma Thuot City the same day for VND450,000 ($22) a kilo.
According to the fisherman, it took him nearly six hours to take the giant catfish to the shore, with the help of others.
To take the fish to the restaurant, people had to cut the tail of the fish so it could fit in the semi-truck.
The Mekong giant catfish, Pangasianodon gigas, is a species of catfish (order Siluriformes) in the shark catfish family (family Pangasiidae), native to the Mekong basin in Southeast Asia.
The Mekong giant catfish is perhaps the most threatened species in the Mekong River. For this reason conservationists have chosen it as a sort of "flagship" species to promote conservation on the Mekong. With recorded sizes of up to 10.5ft (3.2m) and 660lb (300kg), the Mekong giant catfish currently holds the Guinness Book of World Records' position for the world's largest freshwater fish.
Endemic to the lower half of the Mekong River, this catfish is in danger of extinction due to over-fishing, as well as the decrease in water quality due to development and upstream damming. The current IUCN Red List for fish classes the species as Critically Endangered; the number living in the wild is unknown, but catch data indicate the population has fallen by 80 percent in the last 14 years. It is also listed in Appendix I of CITES, banning international trade.
Thu Ly