VietNamNet Bridge – Viet Nam will successfully implement commitments in greenhouse gas emission reduction and climate change mitigation, the Minister of Natural Resources and Environment Tran Hong Ha has said at the Assembly Meeting of the Partnership for Market Readiness (PMR) in Ha Noi.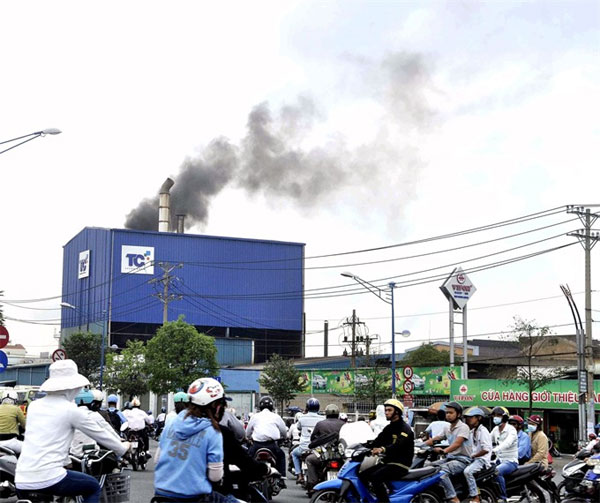 Black exhaust fume from a factory on Truong Chinh Street, Tan Binh District, HCM City. - VNA/VNS Photo Manh Linh
As a country severely affected by climate change, Viet Nam has committed to reducing greenhouse gas emissions (GGE) by 8 per cent a year by 2030 and mitigate the effects of climate change. The figure could increase to 25 per cent if there was more international support, Ha said on Tuesday.
The meeting provided support for stakeholders to prepare and implement climate change mitigation policies, including carbon-pricing instruments, in order to scale up greenhouse gas mitigation.
The Paris Agreement on climate change, which will come into effect in November this year, is an important milestone ahead of the 22nd Conference of the Parties to the United Nations Framework Convention on Climate Change (COP22) in Morocco. This was a good start for global efforts in GGE mitigation after 2020, he said.
As a party to the convention, Viet Nam had made specific commitments to the important joint effort, Ha said at the event, which is part of preparations for Viet Nam's national dialogue on the National Climate Change Strategy and the Intended Nationally Determined Contributions (INDC).
At the meeting, the minister said that the ministry in collaboration with other ministries and agencies would build an action plan for the Paris Agreement to concretise Viet Nam's commitments to the international community.
From now until 2020, Viet Nam would continue to implement the mitigation of GGEs in the action plan to respond to climate change and promote green growth, he said. The country would also research policies to formulate a domestic carbon market and apply carbon-pricing instruments to suitable sectors in pilot, Ha added.
In the 2021-2030 period, Viet Nam will strengthen the implementation of measures to mitigate GGEs, he said.
Despite many difficulties and challenges caused by climate change, the country has pledged in its INDC an 8 per cent reduction of green house gas emissions in 2030 and 25 per cent in the future, noted the minister. He affirmed that the targets would continue to be evaluated and adjusted to suit the country's socio-economic situation in particular periods.
According to the World Bank's report, 101 countries consider carbon pricing as part of their Paris Agreement Commitments.
Greater co-operation through carbon trading could reduce the cost of climate change mitigation by 32 per cent by 2030, the report said.
New modelling analysis undertaken for the State and Trends of Carbon Pricing 2016 report shows that increased international carbon trading could enable large-scale emission reductions at a much lower cost than at present, based on the carbon mitigation goals spelled out in countries' national climate plans under the Paris Agreement - the Nationally Determined Contributions, or NDCs.
By the middle of the century, an international market has the potential to reduce global mitigation costs by more than 50 per cent.
Under this new co-operative framework, one country can benefit from mitigation activities resulting in emission reductions in another country to fulfill its NDC. The report indicates that financial flows of 2-5 per cent of gross domestic product in countries with lower-cost mitigation activities could be realised for investments that will reduce emissions by 2050.
VNS