VietNamNet Bridge - Scientists have urged the Vietnamese government to cooperate with Cambodia and draw up a plan to take full advantage of water resources.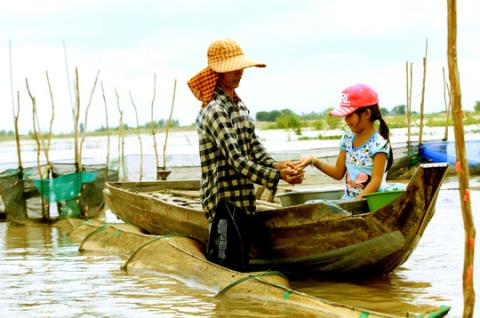 Phnom Penh Post on September 26 cited a report of scientists from the London-based School of Oriental & African Studies on the Kamchay hydropower dam in Kampot province of Cambodia. It is being built by the Chinese Synohydro Company.
The report cited the damages to be caused by the hydropower dam to Cambodian tourism and bamboo exploitation, which has raised strong protest from the public.
Vu Trong Hong, former Deputy Minister of Agriculture and Rural Development, now chair of the Vietnam Water Resources Association, warned that if lacking water, Cambodia may divert Tonle Sap's water to serve agriculture production. 
If this happens, it would be dangerous because Mekong River water goes through Tonle Sap before reaching Vietnam's Mekong Delta region.
Cambodia's hydropower development strategy may be reconsidered.
"Vietnam should learn from Cambodia to protect the environment, fight against pollution and water exhaust. Water security, together with food and energy security, are the three most important security issues for every nation," he said.
Hong said that Cambodians have voiced their concern about the impact of hydropower plants on the environment, so Vietnam should exchange views with Cambodia for good development planning.
"If Vietnam and Cambodia cooperate, their voice will be heard by the United Nations and other countries in the world," he said.
"The viewpoints of the two countries may be a bit different, but the cooperation for mutual benefit will be good," he said.
Commenting about the lack of floodwaters in the Mekong River Delta, Hong said that hydropower plants on the Mekong River were the cause of this on the lower course.
"Some experts warn that Mekong will have no water when it reaches to Vietnam because Cambodia may divert Tonle Sap's water. China stores water for eight hydropower plants and is considers diverting water to the north, and Laos is building its third hydropower plant. This will be very dangerous for the Mekong Delta," Hong said.
Experts in recent years have repeatedly warned about water security for Vietnam's Mekong Delta. As other countries build hydropower plants, Vietnam cannot take initiative in regulating the water stream.
"If they (the countries which build hydropower plants) discharge water, we will suffer from floods. If they store water, we will suffer from drought," Hong said.
Thanh Mai