VietNamNet Bridge – Deputy Prime Minister Trinh Dinh Dung has asked concerned departments for a plan to solve the issue of lead contamination and poisoning in Hung Yen Province's Dong Mai craft village.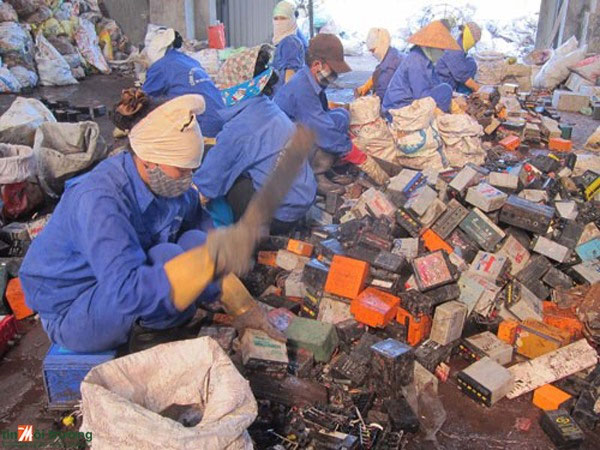 Workers in Dong Mai lead recycling craft village are processing batteries with bared hands. — Photo tinmoitruong.vn
The ministry of natural resources and environment will evaluate pollution and contamination levels in Chi Dao Commune, where the village is located, in the northern province's Van Lam District, so as to implement proper solutions and ensure that local people are not at risk.
The ministry has also been asked to map out policies to deal with environmental pollution in craft villages in general.
Dong Mai craft village is one of the largest lead recycling areas in the northern provinces of Viet Nam. The recycling of lead for handicrafts has had a serious impact on the local habitat and the health of its residents. The village has been recycling lead for more than 30 years now, with around 200 households recycling more than 1,000 tonnes of waste per year.
Most of the solid waste is made up of lead batteries, which are broken to extract the lead inside. The lead is melted down and then sold in the market. The entire process is mostly done at homes or in fields using basic methods.
The blood tests of village residents, particularly children, have revealed abnormally high levels of lead. Even worse, many locals suffer from symptoms of liver and kidney disease and Alzheimer's.
So far the situation has remained unmonitored and no solutions have been found to reduce contamination. The natural resources and environment ministry's latest nationwide survey of 52 handicraft villages has revealed that 46 per cent of them are severely polluting the area's air, water and land, as well as causing noise pollution.
The survey also shows that people who live in or near such craft villages are at higher risk of suffering from respiratory problems, cancers and mental ailments.
In villages that recycle paper, between 16 and 53 per cent of the residents have lung and psychiatric conditions and 58.8 per cent suffer from intestinal diseases; while 44 per cent of residents living in or near food processing villages have respiratory infections.        
VNS