VietNamNet Bridge - Mekong Delta – the 'land of rivers and water'  – is predicted to lack water in the future, experts warned at a conference on climate change and water resource management in late September.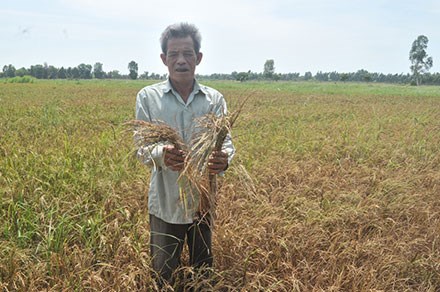 The dry season in 2016 was less severe than last year but still serious enough to cause damage.
A report of the Ministry of Agriculture and Rural Development (MARD) shows that drought and saline intrusion in the 2015-2016 dry season caused damages worth VND8 trillion in Mekong Delta. Eleven out of 13 provinces in the region were declared natural calamities. 
In Ca Mau province alone, 51,000 hectares of rice, 15,000 hectares of crops and fruit trees, and 158,000 hectares of aquaculture areas were damaged, while 162,000 households suffered.
The Water Resource Directorate reported that floods this year heavily depend on infrastructure conditions of the countries on Mekong's upper course, predicting big changes in the flood regime for the Mekong Delta.
Meanwhile, the Ministry of Natural Resources and the Environment (MONRE) brought to the conference the latest research work on the climate change scenario in the region, showing changes in the 'sinking' level. 
The dry season in 2016 was less severe than last year but still serious enough to cause damage.
Instead of Ca Mau, it is Kien Giang and Hau Giang provinces which would suffer the most.
The latest environmental monitoring results showed that the 'golden age' of two seasons, sunny and rainy, and one flooding season is not likely to return.
Mekong Delta residents now await floodwaters. As floods have not come, locals cannot breed fish and shrimp, or grow vegetables, which is a 'big threat' to the western part of the southern region. They have never seen such poor floodwaters.  
The Water Resource Directorate at the conference warned that people in saline intrusion areas may lack water for daily use, and asked the state to spend VND240 billion to provide fresh water to people in the 2016-2017 dry season.
It has also urged local authorities to apply measures to store fresh water for use in the dry season.
Nguyen Huu Thien, an independent expert on Mekong Delta, said now is the right time to think of storing floodwaters in Dong Thap Muoi and Long Xuyen Quadrangle, or it will be too late.
After 20 years of making every effort to build dykes to prevent floods to facilitate the annual 3-crop rice production, Mekong Delta now hascto try to 'lock floods' as a solution to save the entire delta.
Mai Chi