VietNamNet Bridge – The Ministry of Agriculture and Rural Development is drawing up plans for a project on sustainable forest protection, restoration and development in the Central Highlands in an effort to stop the loss of forest coverage.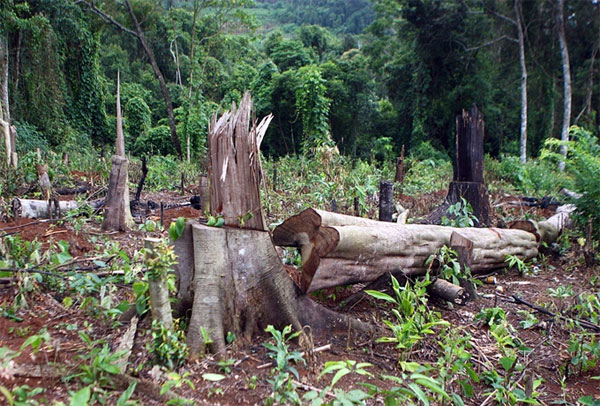 Forest in Dak Nong Province's Dak Song District being chopped down to grow pepper plants.
Costs for the project, to be implemented between now and 2025, will be VND19.85 trillion (US$886.16 million), with VND7.34 trillion ($327.67 million) sourced from the State budget.
The existing natural forest of 2.24 million ha in the region will be strictly protected, including forests allocated to approve projects that have yet to be implemented.
By 2025, the forest coverage will increase to 2.76 million ha from the current 2.56 million ha, reaching 49.6 per cent, up from the current 46 per cent.
The proper protection, management and development of forest resources is expected to fuel the region's socio-economic development, enhance conservation of bio-diversity, and improve livelihoods of locals, as well as maintain the region's defence and security.
Between 2010 and 2015, forest coverage fell by 312,416 ha and 5.8 per cent, respectively.
Only 49,500 ha of forest were planted between 2011 and 2015.
The disappearance of forests has been caused mostly by deforestation and massive conversion of forest land for cultivation.
Poor management by State agencies and local authorities as well as forest owners who are responsible for local management has allowed residents to invade forested land.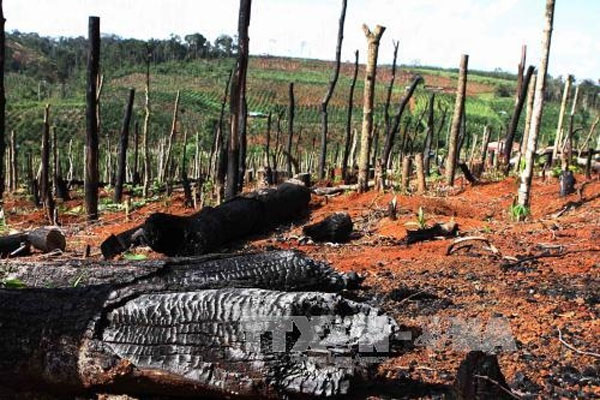 Forest land in Dak Nong Province's Dak Song District was cleared by local residents to grow pepper plants. — VNA/VNS Photos Duong Giang
Speaking at a conference on forest management held on Tuesday in Gia Lai Province, Nguyen Viet Dung, deputy director of the nonprofit PanNature, said the restoration of forests was feasible if it brought economic benefits such as profits from cassava and coffee cultivation.
He said it was difficult to prevent illegal deforestation as there was strong demand for wood.
He said the national project goals might not be feasible as residents continued to take land for cultivation.   
A forest protection official in Zone 4 in Dak Lak Province said it was vital to keep existing forests, but it was nearly impossible to accomplish.
More than 791,000 ha in the region have been allocated for forestry plantation, but much of the soil is depleted and not suited for cultivation.
Reclaiming forest land once used illegally by local people remains a difficult task.
However, Nguyen Quoc Tri, deputy head of the Viet Nam Administration of Forestry, said the project's draft had been carefully researched and that the targets could be fulfilled.
The proposal is expected to be submitted to the Prime Minister for approval in the third quarter of the year.
VNS