VietNamNet Bridge – Vietnam is looking for more support from the international community to better deal with the impact of climate change and cut greenhouse gas emissions.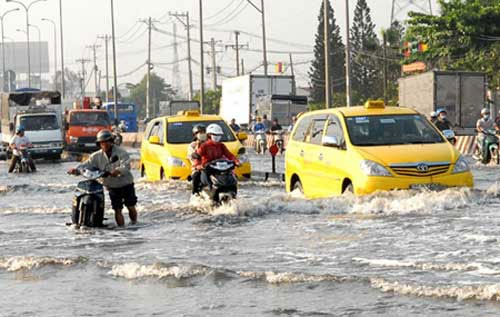 Illustrative image -- File photo
Vietnam has pledged to reduce greenhouse gas emissions by 8% by 2030 and the reduction rate can be 25% if the country gets more support from the international community, heard a conference on climate change and clean energy options in Vietnam in Hanoi last week.
The conference was jointly held by the European Chamber of Commerce in Vietnam (EuroCham) and the EU-Vietnam Business Network (EVBN) during the visit of Mary Robinson, the United Nation (UN) Special Envoy for El Nino and climate and former President of Ireland.
Robinson said farmers in a small commune of Vietnam told her that they suffered losses in the previous crop due to drought and saltwater intrusion and had to borrow money to feed their families. Coastal communities are frequently hit by storms which seriously affect the livelihoods of local people.
These are examples of the clear impact of climate change on society, Robinson said.
Vietnam has submitted its intended nationally determined contribution (INDC) to the UN Framework Convention on Climate Change (UNFCC) secretariat. The INDC consists of two components: mitigation of greenhouse gas emissions and adaptation to climate change.
The country wants to use domestic resources to cut greenhouse gas emissions in the 2021-2030 period and targets an 8% reduction compared to a conventional development scenario by 2030 and the ratio will be 25% if the country gets more backing from the international community.
Robinson said if there is no support for clean energy, the world will be divided with developed nations using clean energy and developing countries relying on fossil energy as it is cheaper. Many countries still depend on fossil fuels to ensure economic growth.
At the meeting, Deputy Minister of Industry and Trade Hoang Quoc Vuong said Vietnam is one of the countries hardest hit by climate change, so the country has worked out a slew of measures to mitigate the effect of climate change.
Vietnam has participated in international agreements on response to climate change including the UNFCC and the Kyoto Protocol. At home, the country has launched a number of initiatives and programs such as the National Target Program on Climate Change and the National Strategy for Green Growth.
However, Vietnam is facing more challenges in coping with climate change due to weak and inadequate adaptation solutions, especially for infrastructure, and a lack of resources.
Therefore, Vuong said Vietnam is looking for more international support to cope with the increasing impact of climate change.
SGT