VietNamNet Bridge - Rapid deforestation has been slowly wiping out the traditional cultural of ethnic minorities in the Central Highlands.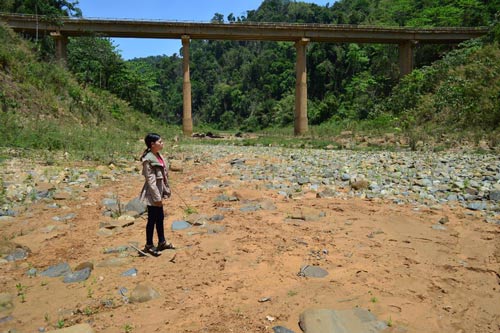 Serepok is the largest river in Dak Lak province and the second largest in the Central Highlands. It is famous for beautiful waterfalls, big stream capacity and rich ecosystems.
The river section in the Vietnamese territory, 126 kilometers in length, has to shoulder 10 hydropower plants.
Since it began operation, Serepok 4G hydropower plant has been taking water through a 15 kilometer long canal, which goes across three communes of Buon Don district to increase flow pressure. A river section, about 20 kilometers long, has become depleted.
The famous Ban Don Ecotousim & Culture Complex is located next to the Serepok. Since the day the hydropower plant arose, the river section hasdried up to the bottom. The number of travelers has halved. 
Rapid deforestation has been slowly wiping out the traditional cultural of ethnic minorities in the Central Highlands.
The Bay Nhanh Waterfall, which was a favorite destination for travelers, now faces the risk of being depleted all year round, not only in the dry season.
Most recently, when preparing for the 2016 Elephant Race on Serepok, a traditional festival in the Central Highlands, the Dak Lak provincial authorities had to ask hydropower plants to provide water. 
The plants were asked to discharge water via Serepok 4 dam from 2pm to 3pm on March 13, or the race would not occur.
A source from Buon Don district authorities said that only after meetings and discussions did the hydropower plants agree to provide water.
Analysts have warned that since hydropower plants take water away, the forests near them will no longer exist. If so, when floods occur, water will inundate the lower areas.
Hills, forests disappear
Lat commune in Lac Duong district of Lam Dong province is located at the foot of Lang Biang Mountain, just 10 kilometers away from Da Lat City. Lang Bian Plateau, 2,000 meters above sea level, is called the "roof" of Da Lat. It is green all year round thanks to the vast pine forests. 
But the beauty could disappear as the forests have been cleared to make room for flower greenhouses.
"In the past, the area was surrounded by forests, where there were many animals, while the streams were so limpid. But the forests have been devastated, the streams have got muddy, the waste has caused serious damage to the environment," said Kra Jan Plin, 55, who has conducted research works on K'ho ethnic minority culture and life.
Nam Lich