VietNamNet Bridge – Viet Nam's marine environment risks being severely polluted due to insufficient protection measures and indiscriminate exploitation of natural resources, marine experts have said.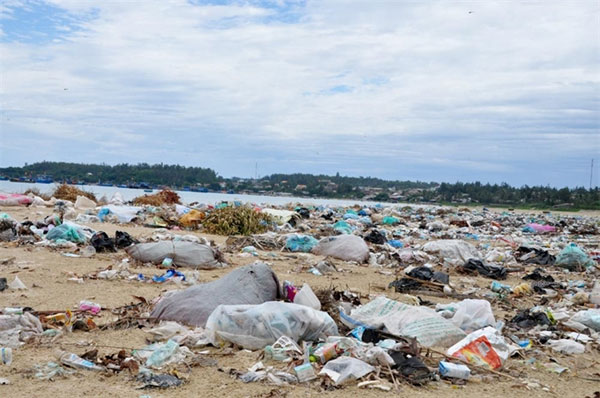 Viet Nam's marine environment risks being severely polluted due to insufficient protection measures and indiscriminate exploitation of natural resources. — Photo hoinongdan.org.vn
According to a report on the environmental situation by the Ministry of Natural Resources and Environment (MONRE), Viet Nam's marine ecosystem is continuing to degrade.
Biodiversity, especially in coastal areas, is increasingly threatened. Mangrove forests have been critically devastated and up to 90 per cent of coral reefs are threatened to be destroyed. At least 85 sea species are in danger at various levels, with 70 species being named on the country's Red List.
Red tides, or harmful algal blooms, have occurred in the seas off the south central provinces of Binh Thuan, Ninh Thuan and Khanh Hoa in recent years, which have inflicted serious damage to aquaculture.
Dr Du Van Toan from the Viet Nam Institute of Seas and Islands, said there were many pollution sources that could potentially do harm to the coastal zones of Viet Nam.
They include pollutants coming from land, such as untreated waste and waste water, hazardous substances and heavy metals - a result of domestic, agricultural and industrial activities, he said. Other sources of pollution are waste oil, chemicals from vessels and accidental oil spills.
Viet Nam has more than 100 rivers, 10 of which are heavily polluted, such as the Cau and Day rivers in the north, and the Thi Vai River in the south.
The MONRE report says the country's rivers annually discharge 880 cubic kilometres of water and about 270-330 million tonnes of alluvium to the sea, carrying along with it pollutants.
Indecomposable pollutants float on sea surface and then sink to seabed, while decomposable pollutants are dissolved and disseminated in the sea water.
According to an investigation carried out by the Viet Nam Institute of Oceanography, sea and island pollution is also attributed to localities inappropriately exploiting and using sandy coastal lands, resulting in a serious shortage of fresh water, and increased coastal erosion and sedimentation.
Destructive fishing methods like using explosives and hazardous chemicals, as well as a lack of planning in sea tourism development have resulted in quickly depleting aquatic resources and damaged marine ecosystems.
Viet Nam's coastal zones are home to 50 per cent of large urban centres which accommodate nearly 60 per cent of the population and most industrial and export processing zones, ports and aquaculture zones.
Management responsibilities are divided among localities and industries.
However, industries tend to prioritise economic development over social and environmental protection goals. This leads to an increase of conflicting interests and a disruption to the intactness and connection of marine and coastal natural systems.
Better measures needed
Nguyen Van Cu, former director of the General Department of Seas and Islands, said Viet Nam needed to improve its policies and legal frameworks on sea management to attain sustainable development.
Another effective measure would be building marine reserves, he said.
According to Viet Nam's master plan for biodiversity conservation, the country aims to build 41 more marine reserves by 2020. But how to turn this goal into reality and continue to develop those reserves in the long term is challenging, said Cu.
Scientists at the Institute of Marine Environment and Resources have suggested expanding the application of community-based measures for managing marine resources, which have been applied in some provinces like Ninh Binh, Nam Dinh and Kien Giang.
This model entitles communities living in coastal areas certain rights under State supervision to self-manage coastal resources.
It had promoted a more active engagement of communities in sharing the State's responsibility in managing and preserving marine resources, they said, adding that the model was also cheap.
Campaigns for raising the awareness of communities about policies and laws on the exploitation of natural resources and sea environment protection should be enhanced, they said
Biological and non-construction solutions like biodiversity protection and coastal ecosystem development should be focused on to prevent natural disasters, besides construction solutions such as building dykes, sea walls and irrigation systems.
They also urged intensifying international co-operation, especially in areas such as sea-related science and technology, sea surveying, sea rescue, disaster prevention and human capacity building.
VNS