The People's Police Academy has launched the Vietnamese version of a manual by an international counter-trafficking organisation to help officials fight the black market trade in endangered wild animals.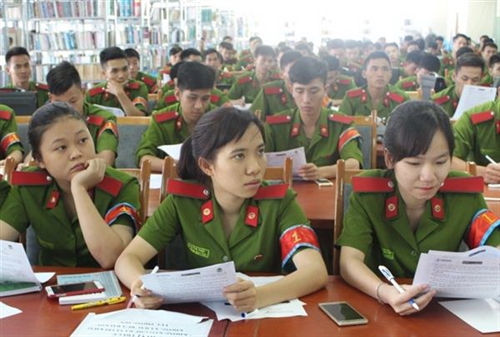 The People's Police Academy has trained more than 1,000 cadets in stopping wildlife crimes in Vietnam. 
The PPA has adapted the Detection of Environmental Crime Training (DETECT) manual by Freeland for use in the local context.
The Vietnamese version was funded by the US Agency for International Development (USAID) under Asia's Rapid Response to Endangered  Species Trafficking Programme (ARREST).
Freeland is an implementing partner of USAID.
"Wildlife trafficking remains a major global threat to species loss, eco-system degradation, human health and security unless we work collaboratively and as one community," Terhi Majanen of the USAID Mission in Việt Nam said.
"This new tool marks an important contribution to help enforcement officers in Việt Nam combat wildlife crime across the country.
"It's an important step, and we need many more to bring an end to this illegal trade."
As the primary institution responsible for training law enforcement across the country, the PPA has a vital role to play in supporting counter wildlife trafficking, Freeland deputy director Sulma Warne said.
"The aim of the activities supported through the ARREST programme has been to strengthen and enhance the role of the PPA, and the production of this training manual is one of the major outcomes."
The launch comes a week after an 11-day course was held for more than 1,000 PPA officials. 
The training was meant to give the participants a grounding in wildlife and environmental crimes and show them what laws are available to prosecute such transgressions.
They were also instructed in how to use the free WildScan app, a species identification tool designed for smart phones and another legacy of the five-year ARREST programme.
Police Colonel and Assoc Prof Dr Trần Minh Chất, also deputy director of the PPA, who presided over the launch of the manual, urged the young cadets to learn all they could from the sessions and be diligent in their duties.
"You need to be activists to protect the delicate balance of our eco-systems."
"You need to think of this as your mission, your honor." 
VNS