A working group led by Phan Xuan Dung, chairman of the National Assembly (NA) Committee on Science, Technology and Environment has arrived in central Ha Tinh Province to supervise the implementation of the law on environmental protection on the Hung Nghiep Formosa Ha Tinh Steel Company.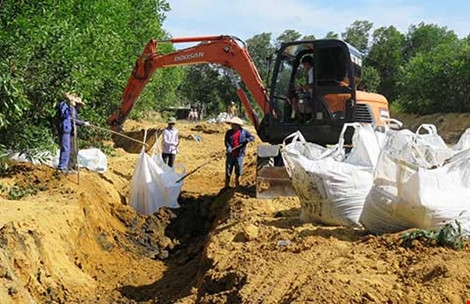 Workers dig up waste from Hung Nghiep Formosa Ha Tinh Steel Company which was buried illegal at Ky Anh Township in central Ha Tinh Province. 
The working group yesterday visited fishermen who were affected by recent environmental accidents as well as examining places where waste from Formosa was reportedly buried in Ky Trinh Ward. The group also met with leaders from the People's Committee of Ky Anh Township and Ha Tinh Province.
It is scheduled to inspect Formosa today.
The group will also work with Vung Ang Thermal Power Plant, a waste treatment plan under the Phu Ha Environmental Limited Company. The group is expected to inspect waste burial sites used by Formosa across the province.
At the first session of the NA, the Committee for Science, Technology and Environment was authorised to supervise the environment in the central region and report to the NA Standing Committee.
Late in June, the Vietnamese government found Taiwanese-owned Formosa responsible for mass fish deaths in four central provinces in April after it released toxic wastewater into the sea.
The leaders of the company officially apologised to the Vietnamese government and people and promised to pay $500 million as compensation, and to pay for the clean-up and restoration of the sea.
Earlier in mid-July, Minister of Natural Resources and Environment Tran Hong Ha said that the body would form a council to supervise the anti-pollution commitments made by Formosa.
The minister added that a state-of-the-art marine environment monitoring system would be built to make regular assessments of the marine environment, Vietnam News Agency reported.
VNS