VietNamNet Bridge - Pairs of red-crowned cranes will stay together for theirentire life. When a crane dies, the other will be faithful, and even go on a hungerstrike to die with its "life partner". However, the icon of Vietnam's Tram Chim National Park now stands at the brink of extinction.
The red-crowned crane is considered a symbol of Tram Chim National Park in the southern province of Dong Thap. The endangered bird is one of the factors that helped the park become the 2,000th Ramsar site in the world in late 2012.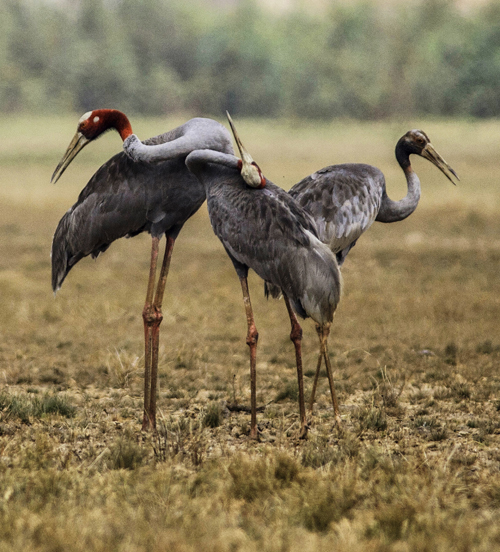 However, the number of red-crowned cranes in Tram Chim is declining. Previously, the number of red-headed cranes to Tram Chim was estimated up to 60% of migrating cranes; the current number is only a few dozen. In 2002, Tram Chim welcomed only 11 cranes and 10 years later the number was only 13.
The red-headed crane (grus antigone sharpii) is the tallest species of the flightless birds. They are considered the most loyal birds, which have only one life-partner.
The habitat of this species is marshes, shallow waters and wetlands. They can eat rough common food in swamps and shallow waters, such as tree roots, bulbs, insects, crustaceans and some small mammals.
According to experts, reclamation activities and land encroachment by humans have narrowed and limited habitats of the crane. This is the biggest threat to this species and is gradually pushing them out of Vietnam. In the photo, people are allowed to enter the national park for exploitation of natural resources of wetlands in a sustainable way.
Besides the illegal trade of eggs, baby and adult birds also have declined.
Not only Tram Chim, the red-headed crane that appears in Lang Sen (Long An province) is few in number, only 7 in 2008. It then increased but there no more in 2013.
According to the World Wildlife Conservation (WW), after leaving Tram Chim, red-headed cranes stopped at Hon Chong in Kien Giang province, with 336 heads in 2001. A year later, as tourist and farming activities boomed here, only 15 cranes came here in 2007.
Leaving Hon Chong, the red-headed crane went to Phu My in Kien Giang. In 2009, this site welcomed 152 birds. However, a similar situation also occurred here so since 2010, the number of red-headed cranes to Phu My has been very small. 
The unsuitable habitat in Vietnam has forced cranes to seek another place to stop. The Anlung Pring Reserve in Cambodia, about 30 km from the Vietnam-Cambodia border in Kien Giang, has become their new "home". Initially local people saw about 20 birds but now the number has reached 200-300. 
To retain cranes in Vietnam, many projects have been implemented to restore the wetland habitat in Tram Chim, Lang Sen, and Kien Luong.
In March this year, the Tram Chim National Park and the International Crane (ICF) Federation saw a red-headed crane with a supervision ring of 18 years ago. It had brought its family back to Tram Chim. 
The boats operated by solar power, without noise and pollution, were given to Tram Chim National Park by the WWF and Dong Thap province authorities. 
Photo: WWF-Vietnam

Nam Son