VietNamNet Bridge – Relevant offices of Viet Nam and Laos are jointly investigating a large-scale po mu forest destruction ring, said an official from Quang Nam Province People's Committee.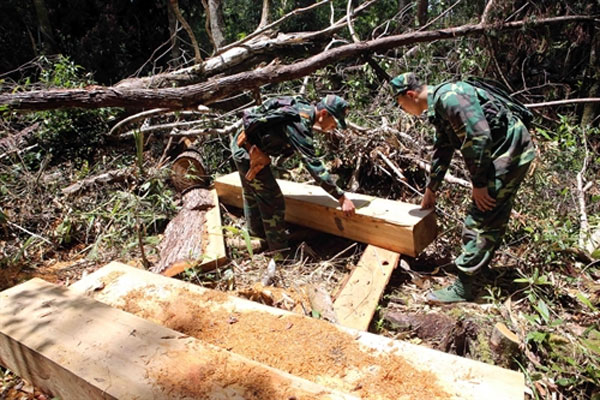 Quang Nam Province forest management staff assess deforestation in Nam Giang District.-- VNA/VNS Photo Tran Le Lam
Le Tri Thanh, deputy chairman of Quang Nam People's Committee said a joint meeting was held between leaders of the province and Laos' Sekong Province on Wednesday with a focus on the investigation plan.
The Vietnamese side requested Laos to co-ordinate in the investigation of a 60 po mu tree (Fokienia hodginsii) felling case in the Nam Giang District's border area, where the wood was later transported through Laos.
Thanh told Lao Dong (Labour) newspaper that Sekong Province authorities would examine their wood processing workshops.
Two sides also agreed on measures to check forest destruction at the border area.
Colonel Nguyen Duc Dung, spokesman of Quang Nam Province's Police on Tuesday said documents relating to the forest destruction case in Nam Giang District were sent to the Ministry of Public Security's Investigative Police Office.
The Investigative Police Office is working with Laos's Sekong Province police to investigate further.
The forest destruction case has caused serious consequences, according to Quang Nam Police, showing that loose inspections by local authorities and relevant offices led to the problem.
During the investigation, police discovered a group of suspects - local officials and forest management staff - who supported illegal loggers in destroying the forest.
Quang Nam police said many circumstances showed that it was a long-time organised criminal wood smuggling ring.
The ring arranged for loggers to cut down trees in the border area's forest that was still strictly patrolled by security forces. The illegally cut wood would then be transported to Laos. In Laos, all goods were 'legitimised' by customs procedures and returned to Viet Nam for consumption.
Sixty po mu trees, with a volume of about 10cu.m of timber each, was imported back into Viet Nam and sold at price of VND35-40 million (US$1,800) for one cu.m of wood.
Police estimate that the 60 po mu trees were worth more than VND18-24 billion ($800,000 to $1.1million).
VNS