VietNamNet Bridge – Police and local authorities in the Central Highlands province of Lam Dong are hunting for the leader of a large illegal logging ring in Bao Lam District.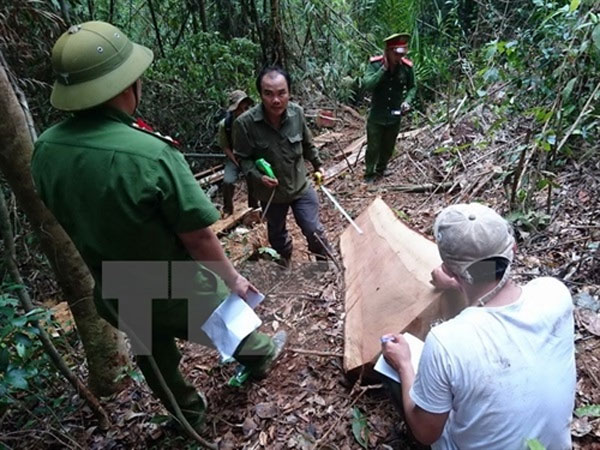 Authorised forces are checking the scene where trees were cut down in the forest area of Unit 390. — Photo:VNA/VNS
Le Hong Ha, 48, from the central Nghe An Province, was widely known as "Ha den" (black Ha) who reportedly led the ring for the past two years.
According to the local police, the ring illegally cut wood in the forest area named Unit 390 managed by Loc Bac Forestry Ltd. Co in the district's Loc Bac Commune. The company found illegal loggers were cutting down trees several times, but failed to catch them.
Ha used to hire scores of people to cut down valuable centuries-old trees for sale.
Local authorities said their latest survey found that at least 30 centuries-old trees had been cut down in the forest.
After keeping a close watch on the operation of the ring for a long time, police from the public security ministry's Southern Department of Environment Crime Prevention conducted a surprise raid last week and arrested 20 members of the gang.
They told the police that after cutting down the trees, they chopped them into smaller sections that were 3m to 4m in length and transported them to the Dong Nai River and let them drift down the flow. A team waiting downstream would collect the logs and transport them by truck to other localities for consumption.
The gang members said they exploited between 20cu.m to 30cu.m of timber each day. Gioi (known as Menghundor) was the most popular timber that they exploited for its high value. This timber sells for VND18 million to VND20 million (US$800-880) per cu.m.
In a related development on Saturday, police from the public security ministry's southern Department of Environment Crime Prevention searched a facility that was reportedly involved in illegal buying and selling of wood in the southern Binh Phuoc Province. At the facility, the police found and seized 40cu.m of wood identified to have been bought from Ha, the leader of the gang of illegal loggers. About 60cu.m of wood of unclear origins were also found stored in the facility.
The case is under further investigation.
VNS