VietNamNet Bridge - The Prime Minister's decision to close natural forests has raised people's hopes that the Central Highlands' forests would be protected.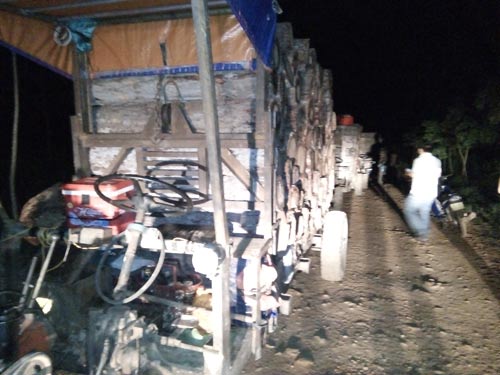 Four trucks laden with timber were discovered
Prime Minister Nguyen Xuan Phuc, at a conference on the solutions to the sustainable development of the forests in the central Highlands on June 20, said that Vietnam will close all natural forests, not to use the remaining 2.25 million hectares of natural forests for other purposes, even though for the licenses projects.
However, the ban has been ignored.
The Chu Pah Forestry Company in Ea H'leo district of Dak Lak province is assigned to manage and protect 14,000 hectares of forests and forestland. However, the forests have been seriously devastated while appropriate agencies cannot stop this.
Nguoi Lao Dong, in a reportage, noted the 'indifference' of the involved people in the forest protection.
Reporters could see with their eyes that many large forest areas put under the Chu Pah's control have become rice and crops fields. Illegal loggers carry illegally felled trees, but they do not meet any trouble at check-points.
At 10 pm of June 22, reporters discovered motorbikes coming out from the forest, each of which carried 0.2-0.3 cubic meters of wood.
Later, they discovered four trucks laden with timber which was just 3 kilometers far from the inter-ministerial check-points. The timber was exploited from the natural forest. Each tree trunk had the diameter of 20-30 cm and the length of 1.3 meters.
The Prime Minister's decision to close natural forests has raised people's hopes that the Central Highlands' forests would be protected.
Why did the illegal loggers still dare to carry timber on trucks on this road, even though they knew there was an inter-ministerial check point there? Why could the motorbikes with illegally chopped down trees go through the stations?
When asked why the deforestation has become more serious, Truong Thanh Chuong, director of Chu Pah, said locals wanted to cut down the forests to get sites for growing pepper as the pepper price has been increasing.
"The illegal loggers are very aggressive, while there are few forest protectors," he explained.
Also according to Chuong, his company reported to the police and forest rangers about deforestation, but things have not improved.
"I think there are insiders. Someone might warn illegal loggers about our inspection tours," he said.
The deforestation can also be seen in many other areas of the Central Highlands.
The road which connects Dak Long and Dak Nhoong commune in Kon Tum province has been exploited by illegal loggers to carry timber from the forests to Dak Glei Town. In order to go to the forest, one must go through a check-point set by Dak Ba SFE. However, when reporters visited, the station was locked.
NLD