VietNamNet Bridge – The quality of air in the capital city, Ha Noi, has consistently worsened, especially in urban areas, main transport routes and ongoing construction sites, director of the municipal Department of Natural Resources and Environment Nguyen Ngoc Dong has said.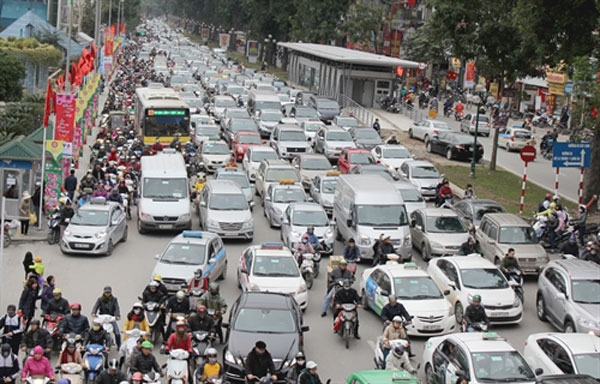 Ha Noi's Giang Vo Street suffers overcrowding one afternoon. Increases in population and the number of vehicles are among major causes for air pollution levels to skyrocket in Ha Noi. – VNA/VNS Photo Tu Anh
At the conference on measures to improve the city's environmental monitoring on Sunday, Dong said that rapid urbanisation alongside massive construction activities, the increase in population and the increase in the number of vehicles caused air pollution level to skyrocket, including levels of dust and noise.
Dust pollution in some places had surpassed the allowed levels, he added, citing benzene as an example. The level of benzene had been increasing year on year due to a rising use of fossil fuels in vehicles.
In the meantime, Dong said, the implementation of projects on dealing with pollution, such as environmental monitoring and pollution control remained ineffective.
Currently, there are six air monitoring stations in the city, only two of which are still operating, on Nguyen Van Cu and Lang roads.
There are only two wastewater monitoring stations in Ta Thanh Oai Commune in Thanh Tri District and Phung Chau Commune in Chuong My District.
Nguyen Duc Chung, chairman of the city's People's Committee said the city carried out many measures to improve the environment such as planting one million trees and building more reservoirs. The city would set up a roadmap to reduce the number of private vehicles in the inner city and ban the use of coal for cooking.
The city invested in mobile air monitoring vehicles and automatic wastewater stations at the solid treatment areas in Soc Son District and Son Tay Township.
As many as 20 air monitoring stations, which were funded by the French Government, would be installed at key transport links and crowded residential areas in Ha Noi to improve the city's environmental monitoring capacity, he said.
At the conference, German experts suggested that Ha Noi should focus on upgrading the monitoring system of environmental quality, especially the collection of air and wastewater samples at monitoring stations. Staff working in this sector should be trained more about the criteria of monitoring systems.
A data centre for the monitoring, which would be connected with the Ministry of Natural Resources and Environment's system, should be set up for better management and publicising the results of the monitoring situation.
In reply to suggestions, Chung suggested German environmental experts introduce environmental monitoring equipment to the system in the city as well as supporting human resource training.
As scheduled, German experts would spend one month surveying Ha Noi's environmental monitoring system. A conference on reporting the study results and proposing solutions would be held next month.
Previously, in March, the Ha Noi-based US Embassy announced its results on air quality reading in the city, which reached alarming levels and caused impacts on people's health, with potential lung and heart diseases.
Authorised agencies have planned to publicise information about air quality in 19 cities in the country in 2017.
VNS