Forest destruction, especially in the Central Highlands, remains a major headache. Deforestation has taken a heavy toll on the ecosystem and the environment, which is evident in serious land erosion, animal habitat reduction, landslides and flooding.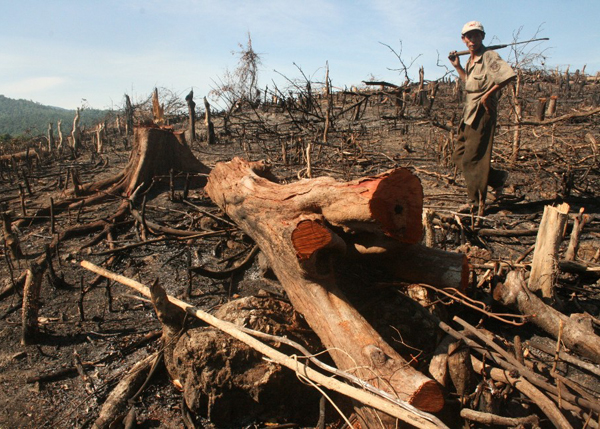 The problem has reached a point where the Government has had to act to stop the rapid pace of forest destruction.
Prime Minister Nguyen Xuan Phuc early this week resolutely requested a closure of natural forests with 2.25 million hectares of existing natural forest not to be converted into any other uses whatsoever, including in the already-approved projects.
Even thin forests will not be replaced by industrial tree plantations either because the current acreage of rubber, coffee and industrial trees is enough.
At a conference in Daklak Province's Buon Ma Thuot City, which aimed to seek solutions to achieving sustainable forest recovery in the region in order to cope with climate change in 2016-2020, the premier ordered those facilities specializing in processing natural wood be shut down and that the process be monitored by competent agencies and the public.
Forest plantations should be revamped in a bid to better control the area of primitive forest.
Phuc underlined the need to raise awareness of this pressing issue among Party Committees and authorities at all levels.
He also ordered a stop to the licensing of hydropower projects whose owners who have violated forest protection regulations.
He also asked agricultural and forestry farms and proposing policies to be restructured to guarantee higher incomes for forest rangers and growers, and the hydropower plants that destroy forests to be cancelled.
Phuc told authorities, police and military forces to join hands to end deforestation. 
He also called for measures to address migration issues, enhance communication and raise public awareness of forest protection and development.
His bold move has received a positive response from the public, especially experts, though it is late.
But better late than never. According to reports delivered at the conference, deforestation has hit 41% of the forest acreage in the Central Highlands over the past three decades.
The Ministry of Agriculture and Rural Development reported that the total area of forest and land zoned for forest development in this region is nearly 3.4 million hectares.
Forest land there has now dwindled by 180,000 hectares against 2010, though.
Regional forest reserves dropped from 327.5 million cubic meters in 2010 to 270.5 million cubic meters in 2015. In 2015, authorities uncovered more than 6,000 violations of forest protection and development regulations, up by 463 against 2014.
The forests which have high-value wood now account for 10.4% of the remaining forest acreage. Flora and fauna, including rare and endangered species, have fallen sharply in recent years while the region took a severe hit from drought early this year.
Experts and officials at the conference agreed deforestation and conversion of forests into for-profit uses are two main causes of the worryingly rapid forest shrinkage in the Central Highlands.
Poor management and protection of forests, migration to the region, and slow restructuring of forestry entities have made matters worse, according to Vietnamnet news website.
Just 4% of the total forest acreage is managed by households. Deforestation has taken place mainly at the forests managed by organizations and businesses.
Therefore, Phuc at the meeting ordered local authorities to devise sustainable solutions to increase forest coverage in the Central Highlands to 59% by 2020.
Vu Ngoc Long, head of the Southern Ecology Institute, says in Tuoi Tre newspaper that this a worthwhile decision because forest protection and development in the Central Highlands plays a vital role in protecting water resources and the ecological environment, and spurring socio-economic development.
"I'm happy to hear the Prime Minister has decided to close natural forests. This is an amazing decision, a much-needed solution at a time when forests and forest ecosystems are deteriorating fast. This is a long wait but it is not late."
Long shared the same concern with Prime Minister Phuc for a reduction of forest coverage and quality.
Currently, natural forests in Vietnam are of poor quality as big numbers of large and valuable trees are disappearing.
Truong Phuoc Anh, director of the Agriculture and Rural Development of Gia Lai Province, admitted that fighting deforestation is a tall order as the province still has a raft of such projects underway.
But he noted the department has been coordinating with experts to review forest-related projects in the Central Highlands province as part of the fight against forest destruction.
SGT