VietNamNet Bridge - The underground water level in Mekong Delta has been degrading rapidly, and is at risk of arsenic contamination.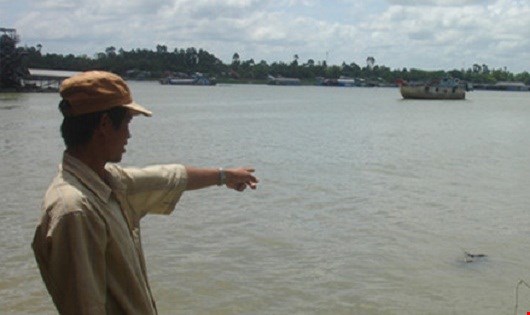 Experts have warned that Mekong River Delta, the country's rice granary, is now at high risk of lacking fresh water with the water level having fallen to the lowest in 100 years.
According to the Geology & Hydrology Society of Vietnam, the water level in the region decreased sharply by 15 meters in 2015. 
In the past, one needed to dig a well at the depth of 100 meters to be able to get fresh water. Nowadays, even if digging at the depth of 200 meters, one would not be sure if the water can be used, because a large percentage of water is contaminated with salt and chemicals.
Meanwhile, a report of the Ministry of Natural Resources and the Environment (MONRE) showed that the current flow from Mekong River upper course has decreased, resulting in saline intrusion which came two months earlier in 2016 than usual. 
Eleven out of 13 provinces and cities in Mekong River Delta have reported saline intrusion. It is estimated that 210,000 hectares of crops area have been damaged since late 2015. About 250,000 households with 1.3 million people lack water for daily use.
The underground water level in Mekong Delta has been degrading rapidly, and is at risk of arsenic contamination.
Meanwhile, Prof Dr Stefan Norra, an expert on underground water from Germany, has warned that the water in Mekong River Delta may be contaminated with arsenic.
The expert, who has scientific research works on the solutions to use underground water in a sustainable way in South East Asia, said the underground water in South East Asia has arsenic concentration in many places exceeding the safe level (10µg/l).
Saying that arsenic had serious consequences to human health, he urged experiments to find arsenic concentration in water in Mekong River Delta as soon as possible.
The warning was given at a workshop discussing technological solutions to the management and use of water, energy and land in Mekong River Delta held some days ago by the Can Tho City's authorities, German Ministry of Education and Research (BMMF), Vietnam Ministry of Science & Technology and Karlsruhe Technology Institute.
Mekong Delta is one of three most vulnerable deltas in the world. It is estimated that 39 percent of area would be inundated by the end of the 21st century. If the sea water level rises by one meter, 70 percent of rice growing area would suffer from saline intrusion, while many other localities would be under the sea water.
Thien Nhien