VietNamNet Bridge - The pilot project on sorting domestic waste at source funded by JICA (Japan International Cooperation Agency) has fallen into oblivion years after it kicked off.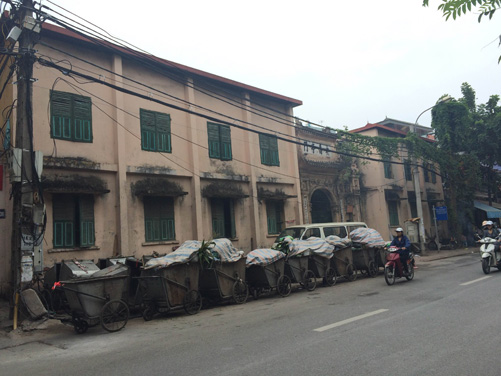 Ten years ago, Hanoians began sorting domestic waste in a project applying the 3R waste treatment model which aimed to reduce, reuse and recycle the waste. 
The project was hailed as having many advantages, while the city authorities put a high hope on the success of the project, because it has been used in many developed countries and described as the 'technology of the future'.
However, the project has 'died young' in Vietnam.
Initial achievements
The pilot project on sorting domestic waste at source funded by JICA has fallen into oblivion years after it kicked off.
Hanoians were asked to classify domestic waste into three groups – organic garbage (flowers, vegetables, fruits and leftovers), to be put into green dust bins; inorganic waste (bone, seashells, porcelain, cloth and diapers) to be put in orange dust bins, and waste for recycling, to be sold to iron scrap dealers. 
In the first phase of the project, the waste sorting was implemented in four wards of Phan Chu Trinh, Thanh Cong, Nguyen Du and Lang Ha. It was estimated that the total volume of waste reduced after the sorting at source might reach 4,680 tons a year.
The project was believed to have positive impact on the environment. It helped reduce 30 percent of the volume of waste for dumping, ease pollution, save costs for waste treatment and prolong the life of dumping grounds.
The waste was then brought to the Cau Dien Plant where it was processed into fertilizer, a product safe to soil and users.
A report showed that 82 percent of people in Phan Chu Trinh and Nguyen Du Wards believed the environmental situation had improved considerably. 
From zero to zero
However, the words 'waste sorting', 'organic waste' and 'inorganic waste' have not been spoken by Hanoians since 2009, when the pilot project finished, i.e. when funding from JICA ended.
Hanoians can see the bins but there is mixed waste inside them.
Nguyen Thi Thuy from Thanh Cong residential quarter said when people finally got used to the waste classification, the project stopped suddenly. 
Though people still classify waste at source as their habit, the classification is in vain: both organic and inorganic waste is now put together and carried away.
According to the Hanoi Urban Environment Service Company, the model cannot be applied on a large scale because of the limited budget. 
Meanwhile, the natural geographical conditions in Hanoi do not facilitate the implementation of the program, under which large land areas are needed for two different dust bins.
Ha Noi Moi