VietNamNet Bridge - Giving up a promising job, Nguyen Truong Sinh travels to every corner of the forest and natural sanctuary to capture stunning images of rare and precious wild animals with the desire to call on the community to protect wildlife.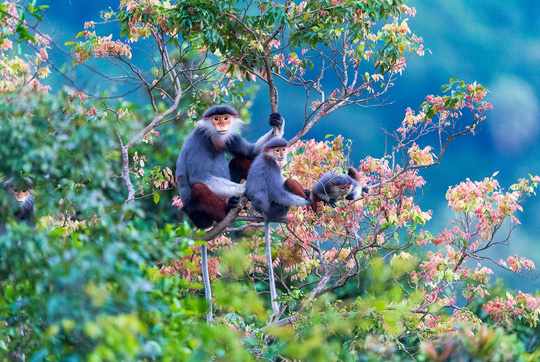 Sinh said he would never forget the chance which introduced him to red-shanked doucs, a rare and precious wildlife species in Son Tra Peninsula in Da Nang City.
"When I was taking pictures of red-headed cranes in Dong Thap Muoi for a collection, I heard that they had been discovered in Son Tra. I immediately set off for Da Nang to take pictures of the douc, called the 'queen of primates'," he said.
At that time, there was not much information about the primate. Luckily, he met Truong Ngoc Tuy, who had deep knowledge about the forests and knew every forest area, alley and stream in Son Tra.
Sinh saw red-shanked doucs for the first time when he followed Tuy's footsteps to the forests. However, he failed to take pictures of them, because the doucs, discovering strangers, hurriedly ran away.
Sinh decided to stay in Son Tra for several days. However, he did not see the doucs again.
But he did not give up. He returned to Son Tra later and met good fortune this time.
He discovered a group of doucs sleeping in trees, prepared his camera, and turned off mobile phone, moved every inch closer to the douc and sat there, waiting for the dawn.
"At 5 am, the members of the douc group began waking up Luckily enough, the biggest douc in the herd was sitting just 30 meters away from my camera. I started shooting. The noise from camera caught the douc's attention. However, it still continued sleeping," he recalled.
In 2014-2015, Sinh spent time in Son Tra to take hundreds of pictures of red shanked douc on the peninsula. "Now I have all the habits of the douc – eating and sleeping, traveling and taking care of children – I know by heart," he said.
Sinh not only could take pictures of the red-shanked doucs in Son Tra, but also langurs in many other localities, including Cat Ba Island.
Cat Ba is an island with a population of majestic limestone mountains. To approach the langurs here, he had to go by canoe or boat. The Langurs in Cat Ba National Park are strictly protected because they are extremely rare (there are only about 300 of this species in the world) and they are the symbol of the island.
NLD