The Biodiversity Conservation Centre, GreenViet, has launched a communication campaign to protect the red-shanked douc langur (Pygathryx nemaeus) in the Son Tra Nature Reserve in this city.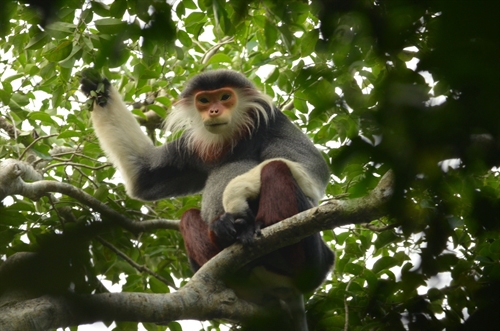 A photo of the red-shanked douc langur (Pygathryx nemaeus) was taken by wildlife photographer Nguyen Truong Sinh in the Son Tra Nature Reserve in Da Nang. A communication campaign for the protection of the endangered langurs has been launched in the city. — Photo courtesy GreenViet
The centre's vice director, Le Thi Thu Trang, said photos of the primates taken by French wildlife photographers Cyril Russo and Vietnamese Nguyen Truong Sinh have been posted on bus stops in Da Nang main streets.
She said the move aimed to raise awareness among the community and the tourists on the need for protection of the red-shanked douc langur.
Trang said scientists and biologists from the International Union for Conservation of Nature (IUCN) had agreed to list the red-shanked douc langur as critically endangered (CR) with unlimited protection status in the world. In 2013, IUCN had listed the animal as endangered (EN).
The Son Tra Nature Reserve, which is 10km from Da Nang's centre, is known for its rich biodiversity, with 287 species of animals and 985 species of plants. The 2500ha reserve, which is 600m above sea level, is home to 300 red-shanked douc langurs – only found in east-central Laos and Vietnam.
The reserve is a favourite tourism destination, with 10,000 tourists visiting the reserve every month.
Last year, the city's forest protection sub-department prosecuted a criminal case that involved the illegal killing of three red-shanked doucs in the reserve.
According to GreenViet, traps are still found in the reserve and illegal hunting continues.
Many restaurants built inside the reserve have been used for illegal hunting and wildlife trafficking in the area.
Illegal loggers have also destroyed a vast area in this protected nature reserve on the Son Tra Peninsula.
Two illegal hunting cases were documented in the reserve last year, while 2,000 traps were dismantled by rangers and volunteers.
Earlier this year, a monkey (Indochinese rhesus macaque) was killed by a motorcyclist on the Son Tra Mountain.
The Da Nang-based GreenViet is also co-operating with the Frankfurt Zoological Society of Germany, the San Diego Zoo Global in the United States and the IUCN to protect the red-shanked douc langur through long-term campaigns.
The city plans to make the red-shanked douc langur the city's symbol of biodiversity at the Asia Pacific Economic Co-operation Summit (APEC) in Da Nang in 2017.
VNS