VietNamNet Bridge – The worst drought ever recorded in Việt Nam has prompted the government and the public to brainstorm strategies on using water sources intelligently for food security and poverty reduction.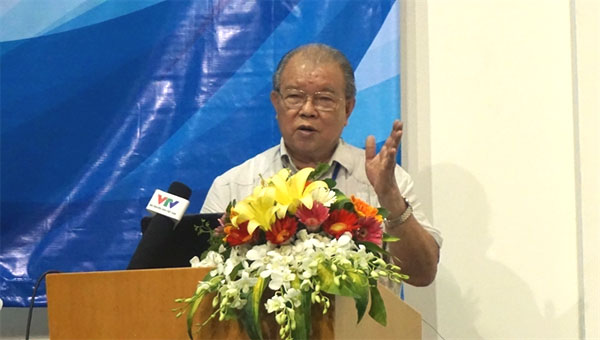 Professor Vo Tong Xuan, a leading Vietnamese agricultural expert, talks about his suggestions to adapt to drought and saline intrusion during the conference. Photo: VNS
The historic drought and saline intrusion in the Mekong Delta caused by upstream hydropower dams and climate change has brought fears of a reduction in rice output and threatens food security.
Even though China has agreed to release water to support Viet Nam to fight drought and desalinate downstream Mekong River, the lifeblood of the region, the water flow to Viet Nam is still insufficient.
Saltwater intrusion in the Delta has destroyed at least 159,000 hectares of paddy rice, and a further 500,000 hectares are at risk before the onset of the summer monsoon.
Recently, the government approved US$23.3 million in emergency funds to compensate hard-hit farmers and provide water tanks and other critical provisions.
Viet Nam has increased rice production fivefold from 4.5 million metric tonnes in 1975 to 25.5 million metric tonnes last year, which represents 17 per cent of the world rice market. Viet Nam is the world's second-largest exporter of rice.  
During the past five years, the world rice market was at about 40 to 42 million metric tonnes of milled rice per year while demand for rice is predicted to increase.
Professor Vo Tong Xuan, a leading Vietnamese agricultural expert, said that saline intrusion affected agricultural production in the lower Mekong River basin, putting paddy production at risk.
Xuan spoke during a conference titled "Sustainable Uses of Mekong Water Resources" organised at Can Tho University yesterday, April 22.
However, he said the challenges should be turned into opportunities by restructuring agriculture in the country, thereby improving farmers' incomes.
Paddy farmers' per capita income in the country, which exports seven million tonnes of rice annually, is only about US$500.
Drought and saline intrusion could be seen a silver lining in the dark cloud, pushing the country to reorganise its irrigation system.
"The government needs to restructure its agricultural and food production in the Mekong Delta to make good use of limited fresh water and opportunities with marine water," said Xuan.
"We have been successful in building irrigation systems bringing fresh water to paddy production for decades. Now, the government should have a comprehensive plan for farmers using saline water in shrimp cultivation," Xuan said.
He said that if farmers were forced to continue with paddy on saline farmland, they would continue to face poverty.
Areas not affected by marine water such as An Giang, Dong Thap and others should be arranged for paddy cultivation with advanced technology, meeting requirements of food security.
He said the government should also develop irrigation systems for shrimp cultivation.
Areas affected by drought and saline intrusion should also plant paddy crops during the rainy season. As soon as rice is harvested at the end of rainy season, with the fields still wet containing fresh water from rains in the surrounding ditches, saline water would be allowed to enter and shrimp post-larvae would grow in the ditches, he said.
"If we see marine water as the enemy, it will be our true failure," Xuan added.
Kenichi Yamamoto, deputy chief representative of JICA Viet Nam, who helped establish the Centre of Excellence in Can Tho University, where information related to the Mekong River is exchanged between related countries, said that drought and saline intrusion not only affected food production in Viet Nam, but other riparian countries along the Mekong River.
Helping the delta's farmers realise the adaptation plan, the World Bank announced that it would provide a concessionary loan of US$300 million in mid-2016 to Viet Nam for the Mekong Delta Climate Resiliency and Sustainable Livelihoods Project.
Iain Menzies, senior water specialist of World Bank, who attended the conference, said that the World Bank's financial and technical assistance to the Mekong basin countries could be effectively used if there was a strong civil society which openly, and in good faith, debated development alternatives and helped guide governments to make well-informed decisions based on sound science.
The project enhances the capacity to manage and adapt to climate change by improving planning, promoting resilient rural livelihoods, and constructing climate smart infrastructure in selected provinces in the Mekong Delta.
Nguyen Huu Thien, who has more than 20 years of experience working on issues of climate change and natural resource management, said Viet Nam had received almost no benefits from hydropower dams. But it has had to suffer huge consequences from the construction of such dams.
Besides threatening the livelihoods of millions, climate change is also threatening the shape of the Mekong Delta, which may disappear in the future, according to the researcher.
Source: VNS