A months-long drought has inflicted heavy losses on farmers in the Mekong Delta provinces of Ca Mau and Tien Giang.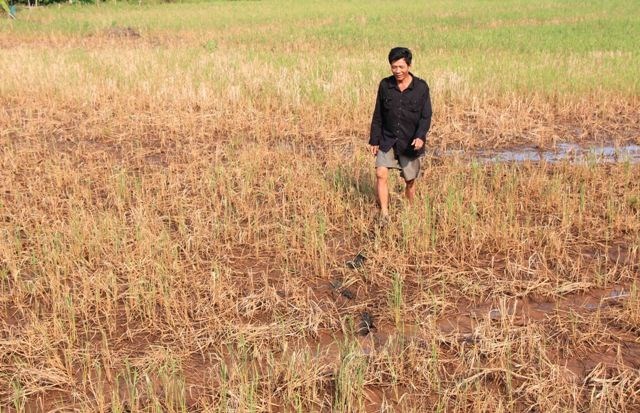 Prolonged drought caused heavy loss to rice production in Mekong Delta provinces of Ca Mau and Tien Giang.
In Ca Mau, about 10,000 prawn-rice hectares suffered heavy damage, 3,000 hectares of which were totally lost and the rest lost 70 percent and above of crops.
U Minh, Tran Van Thoi and Thoi Binh districts suffered the heaviest losses.
To help farmers reduce damage, local authorities carried out measures such as early harvesting some rice or pumping water to rescue both rice and prawn in areas with water.
The prawn-rice model has become one of Ca Mau's sustainable production methods in recent years.
Ca Mau set a target of producing 600,000 tonnes of food in 2016 but the goal may be missed because of the ongoing drought.
In Tien Giang, the Irrigation and Flood and Storm Prevention office under the provincial Department of Agriculture and Rural Development, said saline instruction compounded by drought caused heavy losses to production and impacted the lives of locals in the coastal Go Cong area.
Over 3,430 hectares of rice, fruit trees and vegetables were damaged by saline intrusion in Go Cong Dong, Go Cong Tay, and Tan Phu Dong and Go Cong town, district, with losses estimated at 90 billion VND (4 million USD).
Over 3,200 hectares of rice suffered losses of over 30 percent with 2,100 hectares losing over 70 percent.
Some 40 hectares of lemongrass in Tan Phu Dong district, 93 hectares of custard-apple and 20 hectares of longan were damaged from 30 to 70 percent.
In response to the drought, Tien Giang invested 6 billion VND to complete 40 irrigation facilities.
The province also used 87 billion VND (3.8 million USD) from preferential loans and the provincial budget to dredge 14 canals running through Go Cong town to provide fresh water to reduce the severity of drought in Go Cong Dong district.
The province has been monitoring the level of salinity in river water to prepare water for the summer-autumn 2016 crop.
Tien Giang has also accelerated the construction of inter-field irrigation systems and adjusted production structures to combat climate change by developing salinity-resistant breeds.
VNA