VietNamNet Bridge – Farmers in the (Cuu Long) Mekong Delta have been told to draw water since levels have risen in rivers following the release of water by China and Laos from hydropower dams in upstream Mekong River.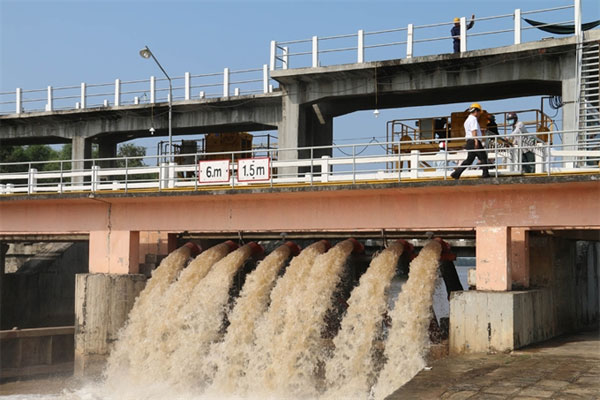 Water being pumped at Xuan Hoa Sluice in southern Tien Giang Province. Farmers in the Mekong Delta have been told to draw water since levels have risen in rivers following the release of water by China and Laos from hydropower dams on the upstream Mekong River.— Photo: VNS
It is estimated that the released water can desalinate 15-20km of the river, but supply needs to be prioritised for households, cattle, and fruit orchards.
With the summer – autumn paddy crop beginning, farmers are encouraged by the new flows into the region's canal network.  
Le Van Lam, 66, of Dong Thap Province's Tan Hong District said his 15 hectares of paddy planted two weeks ago have been destroyed due to the lack of water in canals.
"I and other farmers feel very happy to see the water level increase recently. If the level can be maintained for a month, there will be no worries of a water shortage since the rainy season is approaching."
With the water level increasing by 0.2-0.4 metres daily, there will be enough water for irrigation in the Long Xuyen quadrilateral. The salinity rate in An Giang and Kien Giang provinces and other places in the vicinity has reduced, Luu Van Ninh, director of An Giang's Centre for Hydro-Meteorological Forecast, said.
Nguyen Van Buong, deputy head of the agriculture department in Dong Thap Province's Hong Ngu District, said the higher water levels would help 12,000 hectares of paddy in the locality. With the silt it carries, it would also help save on fertilizers, he said.
Farmers with fish cages have more freshwater for their fish.
In An Giang's An Phu District, farmers are set to plant 18,000ha of paddy.
Local authorities have dredged canals and called on people to draw water.
"Local authorities have opened sluice gates to let water into the canal system, benefiting more than 4,000ha of paddy and vegetables," Nguyen Van Thao, vice chairman of the An Phu District People's Committee, said.
According to the National Centre for Hydro-Meteorological Forecast, water levels in the Mekong's downstream will be 0.02 to 0.2 metres higher than average between April 4 and 8.
Water levels along the main stations on the river have been increasing.
Water levels in the Tien (Front) and Hau (Rear) Rivers are expected to reach 1.3m at Tan Chau and 1.4m at Chau Doc, 0.15 metres higher than at the same time last year.
According to the centre, there will be rain in the Mekong's upstream areas this week though not downstream.
The Ministry of Agriculture and Rural Development's Irrigation Department said the water levels in the river's upstream would surge as a result.
Salinity down
Nguyen Van Tinh, deputy head of the Irrigation Department, said local authorities have been asked to focus on drawing water and monitoring the salinity rates in the delta.             
There should be plans in place to exploit and store freshwater in canals and reservoirs in case of a shortage, he said.
In Can Tho, with the increased water flows, the salinity has reduced to 0.09-0.19 parts in thousand from 1.5-2.5‰ in early March.
In Soc Trang Province, Ke Sach and Chau Thanh districts have seen salinity rates fall in canals. In the Hau River, the rate has fallen to 0.6 ‰ from 8.5-24.5‰ last month.
Ha Tan Viet, head of the Soc Trang Province Irrigation Bureau, said the freshwater coming from upstream has helped reduced agricultural losses in Ke Sach and Chau Thanh districts to below 30 percent.
An estimated 2,000ha of paddy have been saved in the province, he added.
Ben Tre, the place worst hit by the drought, expects to receive water within a couple of days.
Nine out of 12 provinces in the delta have officially declared the drought a disaster. Thousands of hectares of paddy, sugarcane, fruits, and vegetables face the threat of being destroyed and more than a million people suffer from a shortage of freshwater.
International helps to drought and salinisation
The international community committed to donate US$1.1 million (Sunday, April 4) to help Viet Nam deal with the on-going drought and salt intrusion.
Seven international non-governmental organisations (NGOs) and businesses vowed to provide clean water and food as soon as possible to 13 provinces in the central, central highlands and the Mekong (Cuu Long) Delta.
The commitments were announced in a conference on battling drought and salinisation held in Ha Noi on Sunday, April 4.
Twenty-two NGOs also pledged to carry out 30 support programmes over the next three years in affected localities. Funding totalled $12.3 million.   
Drought and saltwater intrusion caused severe water shortages and destroyed hundreds of thousands hectares of crops in the three regions. The damages were expected to increase in the summer as the dry season reaches its peak.   
VNS