VietNamNet Bridge - Con Dao residents, who take pride in their green island, are worried about the news that 40 hectares of forest may be cleared to make room for a road through a national park.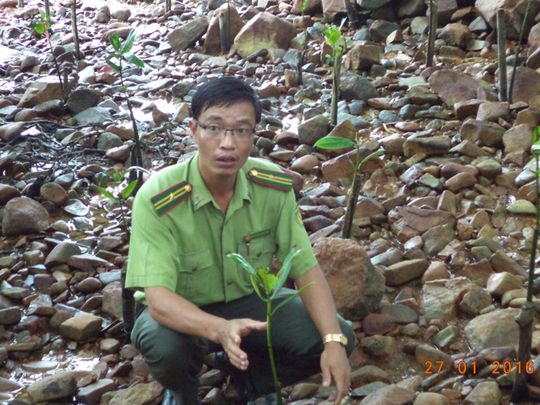 Nguyen Van Tra, deputy head of Con Dao's Forest Rangers' Unit
Lao Dong reporters were surprised when they arrived in Con Dao in late January 2016, as it appeared to be different from seven years ago.
"We don't sell products made of tortoise-shell and coral. Con Dao people don't harm the sea," said the girl, the owner of a souvenir shop.
Con Son Town is quiet and the main streets spotlessly clean. Local people do not run after travelers to persuade them to buy souvenirs. Shop owners do not overcharge. 
In visitors' eyes, Con Dao remains the same as it was many years ago. Con Dao is still a quiet place for people to visit and relax.
Tran Dinh Hue, deputy director of the Con Dao National Park, said Con Dao has been following its own way in developing tourism. 
In November 2014, the national park was recognized as the sixth Ramsar site and the first sea Ramsar site in Vietnam.
"We encourage the community to join forces to develop eco-tourism in a sustainable and selective way," he said.
In the past, many local fishermen lived on fishing along the shore. But they have shifted to carry travelers. The national park promises to provide loans (VND100 million at maximum) at preferential interest rates to support them to change their career.
The national park is building a plan to manage, protect and use the Ramsar site in a way which develops the local economy and protects the biodiversity.
"People understand that if the forests disappear, fresh water will no longer exist. Therefore, they are well aware of the importance for forest protection," he said.
According to Nguyen Van Tra, deputy head of the Con Dao Forest Rangers' Unit, no forest fire occurred in the last 20 years on Con Dao, which showed tgreat efforts of the community to protect their living environment.
However, it is unclear if Con Dao can stay green in the future. A road, connecting the Ben Dam Port and Co Ong Airport, would go through the primitive forest in the Con Dao National Park. With the total length of 14 kilometers, it would affect 40 hectares of special-use forests. 
According to the Ba Ria-Vung Tau provincial authorities, the project would help improve the transport network in Con Dao, lay the infrastructure foundation for developing tourism and help national defence.