VietNamNet Bridge - This year's historic drought and saltwater intrusion have been mostly caused by the extreme El Nino weather phenomenon. If the 11 hydropower dams in Mekong upriver become operational, Vietnam's Mekong Delta will bear a 'double disaster'.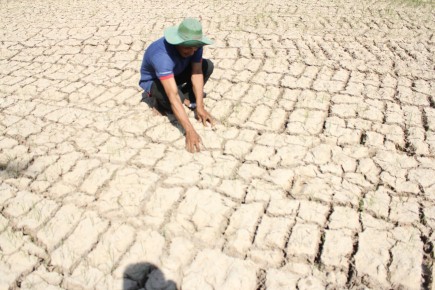 Six out of 13 provinces face natural calamities
El Nino which began affecting Vietnam in late 2014 and is expected to last until mid-2016 has been the longest lasting El Nino in Vietnam.
In the remaining time of the dry season, the average temperature in Mekong Delta would be 0.5-1.5oC higher than the years before, while the highest temperature may reach 33-37oC. 
The rainy season is forecast to come late, with the rainfall short by 30-60 percent and the river system's streams short by 30-50 percent.
Since the 2015 rainy season came late and finished early, the Mekong upstream flow was low and the water level is now at a 90-year low. The saltwater intrusion occurred two months earlier than usual, which has never happened before.
To date, six out of 13 provinces in Mekong Delta have declared states of natural calamity, namely Tien Giang, Ben Tre, Kien Giang, Soc Trang, Long An and Ca Mau. Hundreds of hectares of rice fields and orchards have been damaged and nearly 1 million people lack water. 
Kien Giang province has reported damage worth VND1.2 trillion from the drought and saltwater intrusion.
The double disaster
Provinces have been warned that these would not be the final figures about the damage.
Provinces have been warned that these would not be the final figures about the damage.
Tran Cong Chanh, Hau Giang provincial Party Committee's Secretary, said if Mekong Delta would be able to resume production when the water supply is ready, if there is only drought.
However, the problem is more serious. The salinity will have serious effects on the environment and soil for the long term, which will hinder economic development.
Nguyen Ngoc Thien, an independent expert in Mekong Delta, warned that in the future, if all hydropower dams in Mekong upriver run, investors will store water to generate electricity.
Vietnam's Mekong Delta will bear double disaster after the salinity intrusion attacks.
"Hydropower plant investors just try to optimize profits, and don't think about the benefits of the people who live on the river," he said.
Thien said Chinese hydropower dams would lead to a 50 percent reduction in the alluvium volume to Mekong River Delta, from 75 million tons to 42 million. 
This will be contrary to the tectonic law of the Mekong River Delta and undermine the resilience of the delta against sea waves.
"It might happen that Mekong River Delta would be eliminated from the map one day," Thien warned.
Lao Dong