VietNamNet Bridge – From hunting wild animals as young boy, one man has changed his view of the animals we share the planet with, and decided to protect them. Tieu Thien reports.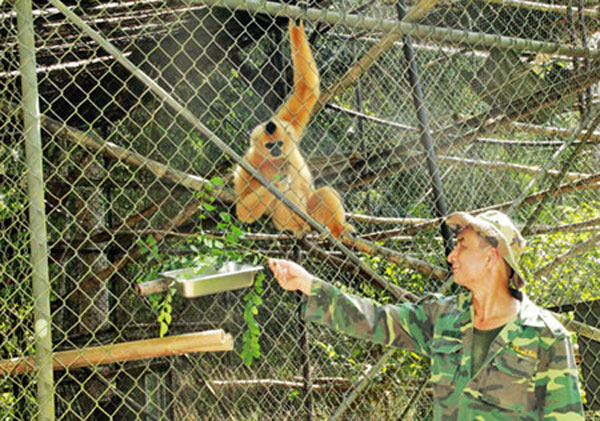 Feel for nature: K'Hoai works at the Cat Tien National Park's Centre for Endangered Primates Rescue. — VNS Photos Viet Thanh
K' Thanh Hoai, better known as known as K' Hoai, used to hunt animals once, but now rescues them at the Cat Tien National Park.
Like the other villagers, K' Hoai, 52, a Ma ethnic man in the southern province of Dong Nai's Ta Lai Village of Tan Phu District, used to earn a living by hunting wild animals in the forests.
Hoai recalled that he joined his villagers to hunt in the forest from the age of 14. As a result, he knew almost all the mountains and forests as well as trails and habits of wild animals.
In the 1980s, the forests of the Cat Tien National Park, bordering the Central Highlands province of Lam Dong, Binh Phuoc and Dong Nai, were still neglected and were full of wild animals.
"In the day time, I hunted tortoises, iguanas and porcupines, while at night I hunted deer, foxes, muntjac and many others.
"During the rainy season, I used to row a dug-out canoe to the Da Ban stream bordering Lam Dong forests for hunting. I hunted so many wild animals that apart from selling them, I had to bake or dry them as food to eat for periods between seasons," K'Hoai said.
He went hunting for decades until one day when he and his brother-in-law saw a long-tailed monkey eating bamboo leaves. K'Hoai fired an arrow at the monkey's belly.
The monkey although seriously injured and in severe pain, still used one hand to hold her injured belly while with the other she pulled her child away, who was closely holding her belly, to hand it to her mate.
"While seeing her mate escaping with the child, she fell down and died," K'Hoai recalled, and added that he saw the female monkey's tears as if she could not bear to be separated from her family.
"At that time, I was very pained by my action. I told my brother-in-law to stop hunting because I thought about how I would feel if someone hunted my wife and my children, and he agreed," K'Hoai said.
He said that since then the monkey's desperate look always appears before his eyes. "I became obsessed with it and told myself that I had to give up hunting and start rescuing animals."
He then tried to preserve village cultural work such as new rice and traditional festivals.
In 1996, K'Hoai was invited to work as a forest ranger at Cat Tien National Park. Soon after that he mobilised 10 households in his village to grow 200ha of forest while campaigning with others to stop damaging the forest and hunting.
In 2008, the park set up the Dao Tien Centre for Endangered Primates Rescue, and K'Hoai was assigned to work as a rescue worker.
He said that centre manager Marina Kenyon Ann highly valued his professional knowledge of the locals and wild animals.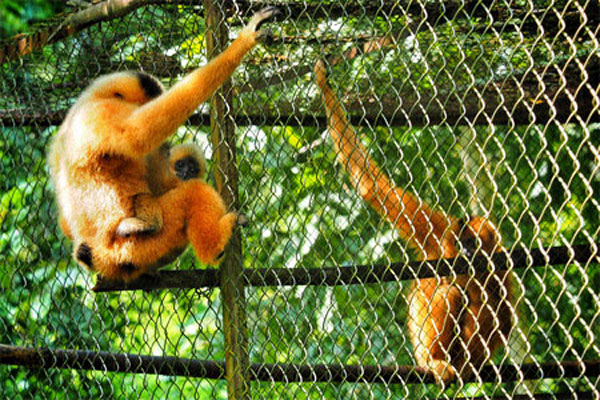 Safe place: Rare and endangered primates are well protected in Viet Nam's Cat Tien National Park.
In May that year, he was sent to Taiwan to learn about rescue techniques and taking care of wild animals. K'Hoai and his colleagues have rescued and treated hundreds of rare primates, gibbons and other animals till now.
He said he knows each animal's habits well. "When I hear a howl or a scream, I know they are jealous in love or angry."
"When they see us, the primates often gather around to greet us," he said.
After working, he often goes deep into the forest to find ficus glomerate and lecythidaceae leaves or catching grasshoppers and locusts as food for them.
"These leaves are their main food so they can survive after being released," he said.
K'Hoai said that just as humans, the animals also want to live freely in the forest. He regretted his actions before, he added.
Veterinary Dr Nguyen Van Cuong of the centre praised K'Hoai for his responsibility in his work.
Centre director Nguyen The Viet said, "I have learnt a lot from K'Hoai's soft skills while dealing with locals and his understanding of the forests and animals. He is a very good animal rescue worker."
Viet said K'Hoai and his wife have won the respect of the villagers and are very good examples for others to follow in protecting the forests and the wild animals.
VNS